Autosport International 2019
Happy New Year guys! 2019 has begun and always first up for major automotive events is Autosport International and the Performance Car Show from Birmingham NEC and this year was no different.
In 2018 I only attended the trade days but decided to mix it up a little and go for one trade day and one public day this year so headed down to Birmingham on Friday 11th January. A busy day was ahead with a few meetings to discuss future shoots and one being with the guys from Spanner Monkeyz. Thanks to Liam and Adam for their hospitality, the burger was delicious guys :)
Friday 11th January 2019 - Trade Only Day
Friday began bright and early, checked into the media centre with no issues and stopped for a quick coffee before heading into the show. The trade days are always much quieter than the weekends with a very different atmosphere, sometimes have to remember that these are actually working days rather than the fun atmosphere of the public weekend days.
The relative quietness is perfect for us photographers however with very few barriers around cars and with fewer people actually walking the halls shots like this become much easier.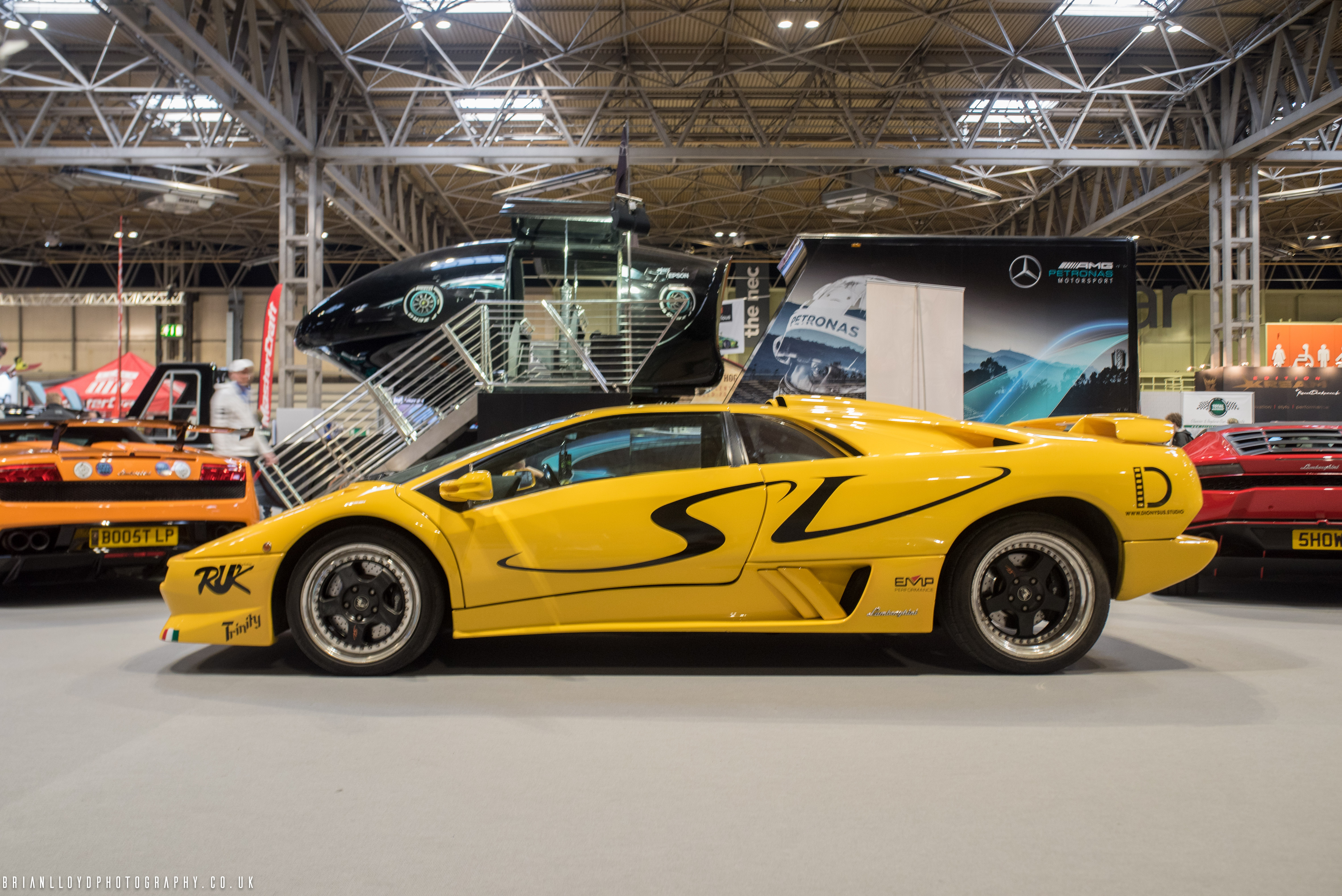 Starting off in the Performance Car Show section there were no end of tuned and modified supercars around with the usual stands from the crazy guys at Liberty Walk, Yianna from Yiannamize's insane chrome wrapped Aventador and of course his new addition to the fleet, the new Lamborghini Urus, also wrapped in green chrome!
The Silverstone Auctions section had some beautiful cars on display awaiting the live auction on Saturday. One of the stand out for me was this amazing McLaren Mercedes SLR, I think its aged so well this car.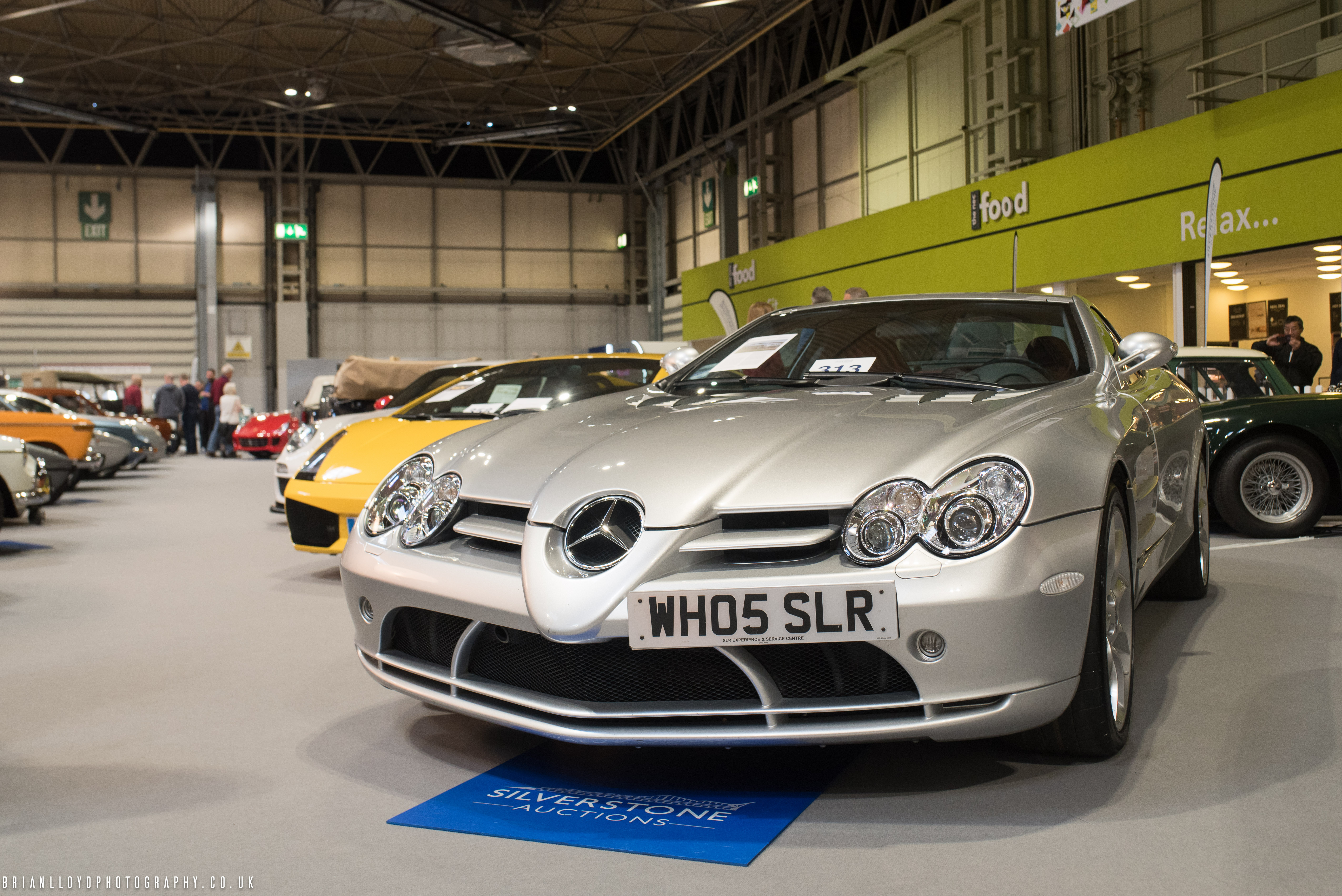 The teams at
Samyang Lenses
and
Intro2020
were kind of enough to support me at this event with the loan of some new equipment. I went for the brand new 14mm f2.8 AF, part of the new auto focus range from Samyang. You can learn more by checking out their social media page in the links below. The 14mm was superb for shooting a show like this. Event organisers are often looking for images that give a sense of scale and atmosphere at their shows and the 14mm was the perfect piece of kit to do the job. Look out for some feature images on Samyang's social media coming very soon!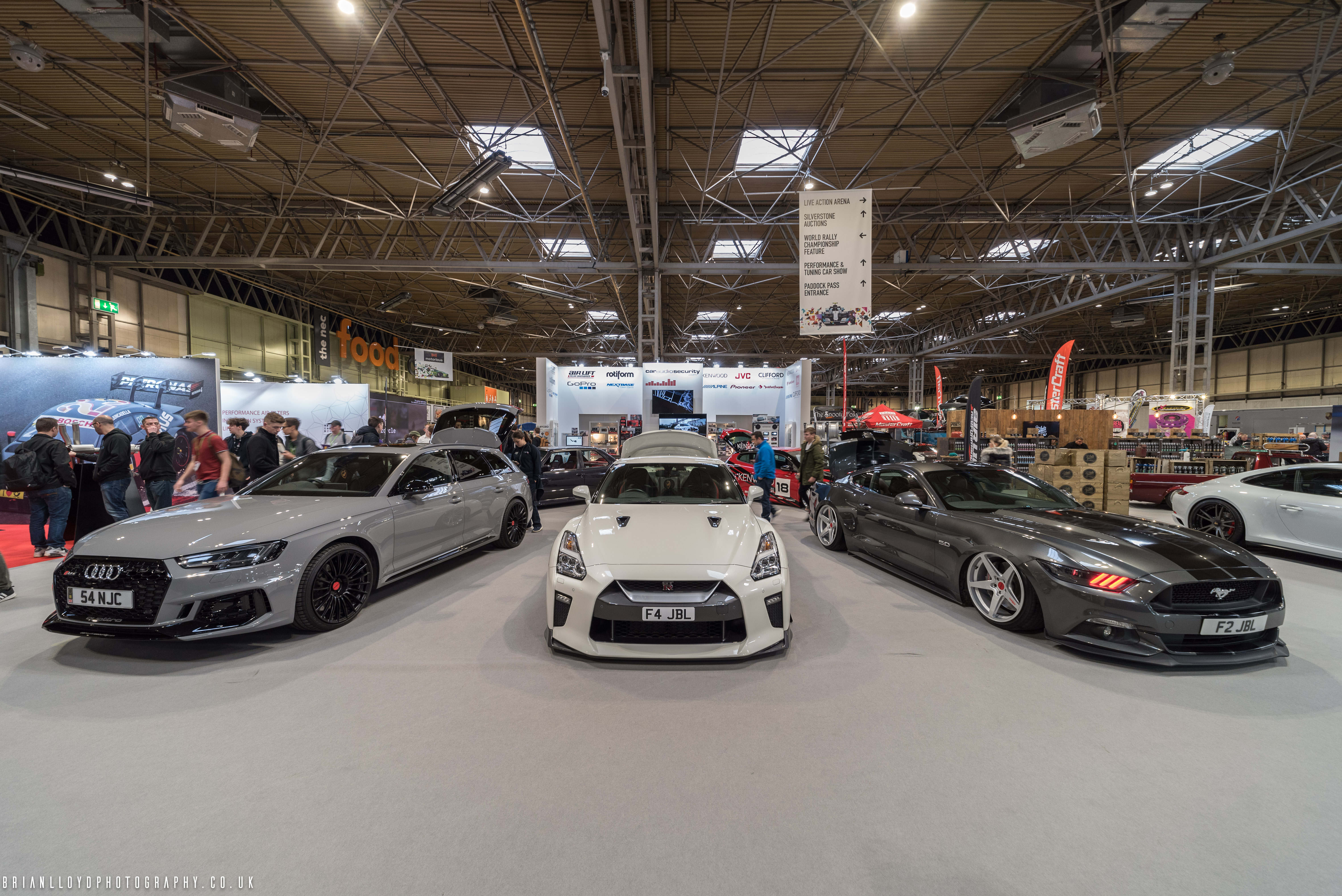 Shot on Samyang 14mm f2.8 AF
After exploring the performance car show it was time to head into the main autosport area and meet up with the guys from Spanner Monkeyz. This was their first time at the show so it was pleasure to show them around and spend the day chatting over our plans for the year. Again, for more information check out the links below.
The event had been completely changed around this year and moved to a new set of halls which confused things a little but wasn't long until I got my bearings and was able to get exploring. The F1 stand was superb as always with a fantastic array of cars from previous years as well as a few from this season sporting their new halo design safety structure. Still not sure on the look of it yet though...
The trade only days are quite different to the public days and one huge variation is the addition of the engineering zone, with many of the UK and Europe's leading motorsport and engineering companies showcasing a huge variety of products. From gearboxes to full dyno set ups there is something for everyone in the industry on show here. Also a great area to do some networking which is the theme of the trade days really. Being with two engineers for the day made this section a bit more interesting. Its amazing how excited an engineer can get from a look inside a sequential gearbox :)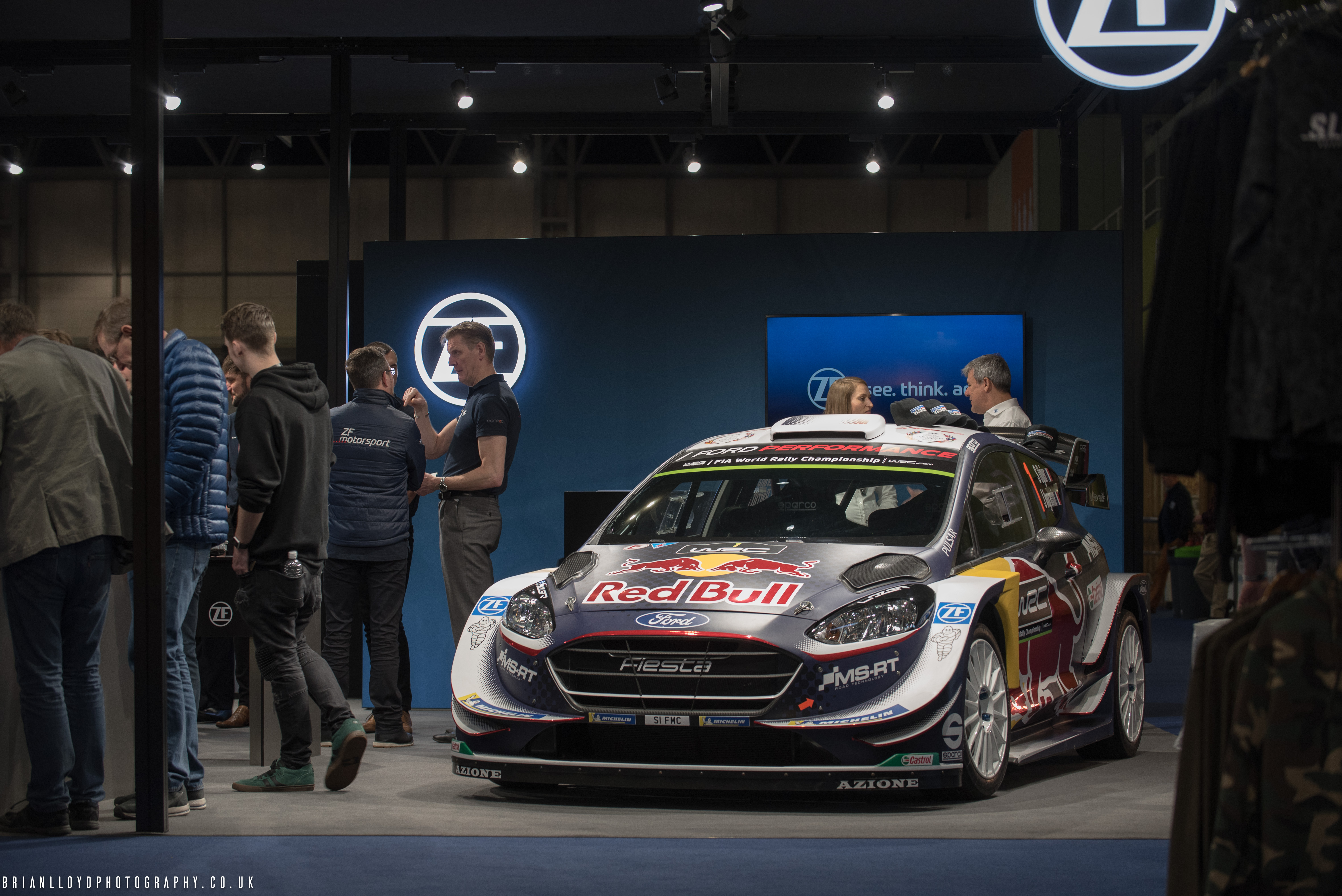 The day had slightly ran away from us and before we knew it it was mid afternoon and time for some much needed food. Some delicious but very overpriced burgers were the order of the day and it was soon time for the live action arena show. Only one showing per day on the trade days so we had to make sure we made it there on time.
The Live Action Arena show was very impressive, maybe lacked some of the over the top stunts of previous years like loop the loops and things but on the whole still a great spectacle to see such machines up close and was of course very noisy! More on the live action later in the blog though!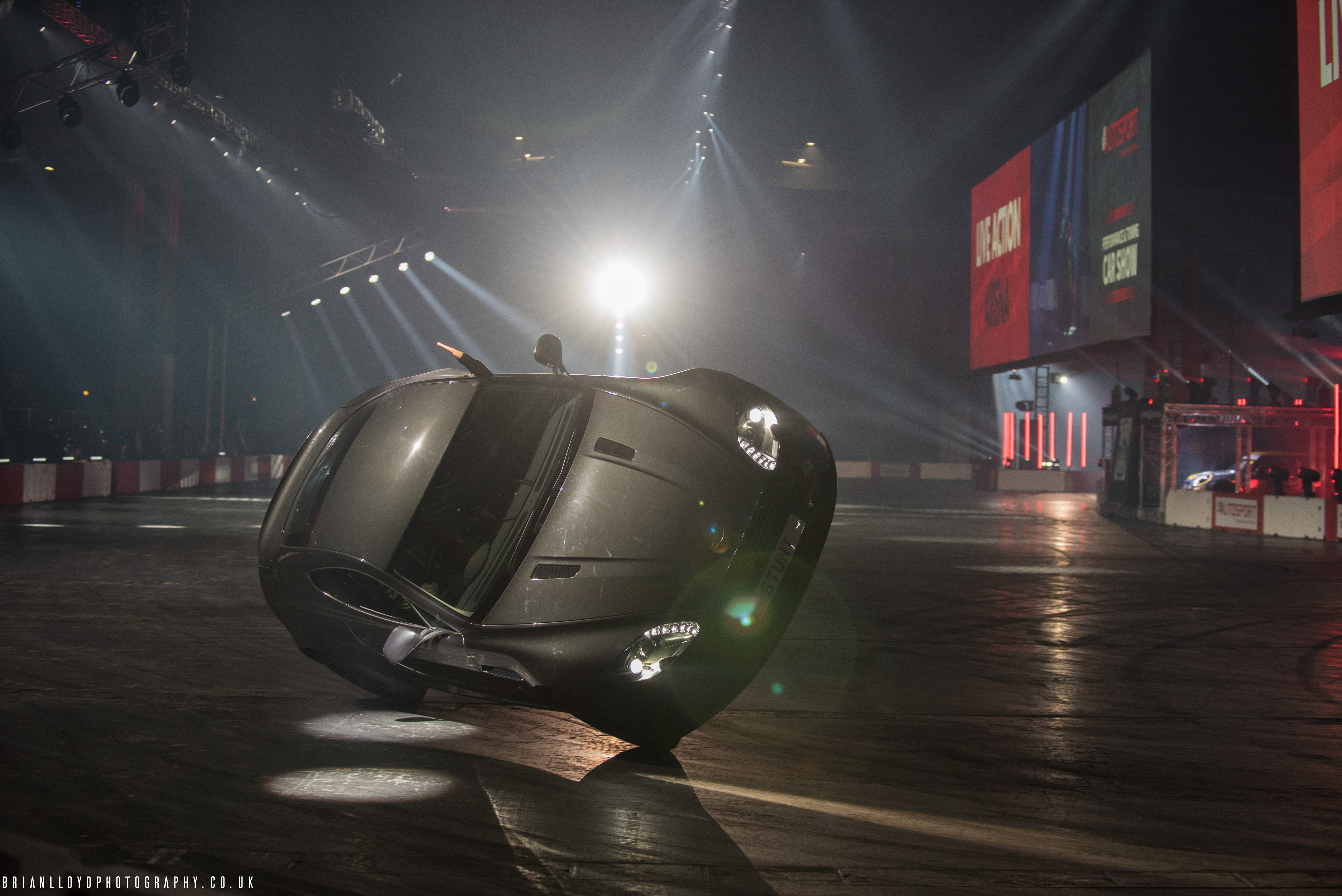 After a long first day it was time to head off to my airbnb I had booked in the area. After a nice roast dinner in the evening it was time for some much needed rest before getting ready for the weekend.
Saturday 12th January 2019 - Public Day

Up bright and early for my second day of the show and headed straight to the media centre for some much needed coffee to start the day! The day certainly started with a bang, as I was waiting to refill my coffee who is standing right next to me, none other than Carlos Sainz Jnr, Lando Norris and Zak Brown! Quite a surreal experience for sure..
Into the show and I was meeting up with my friend Lee and his work mate Adam. You can read Lee's blog from the day by
clicking here
.
First impressions where how much busier it was but with that comes a much better atmosphere for the event! Heading again back to the performance car show and the vibe in there was very different, with DJs playing, celebrities here and there and plenty of freebies being given away by the various performance and tuning companies!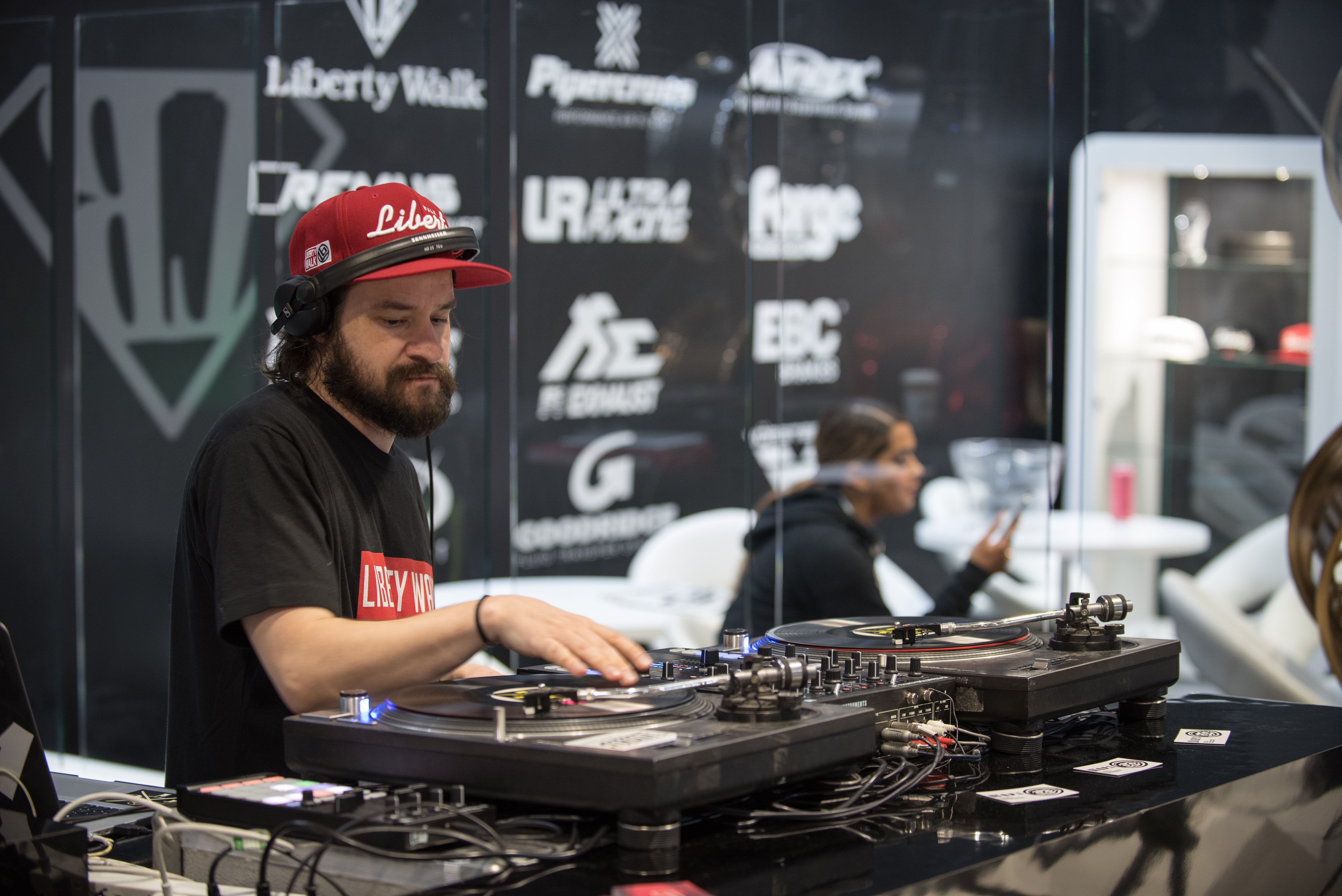 As we headed out of the performance car show area it suddenly dawned on me how much the halls had been changed overnight! Gone were the rows of engineering stands and all these had been replaced with some different stands but mainly a huge variety of tuned, modified and full on race cars on display!
The weekend public days have a lot more going on in terms of interviews with drivers from all disciplines of motorsport including F1 and WRC. We headed over to the Autosport stage to catch some interviews with the likes of the Citroen Red Bull WRC team with the legendary six time WRC champion Sebastien Ogier!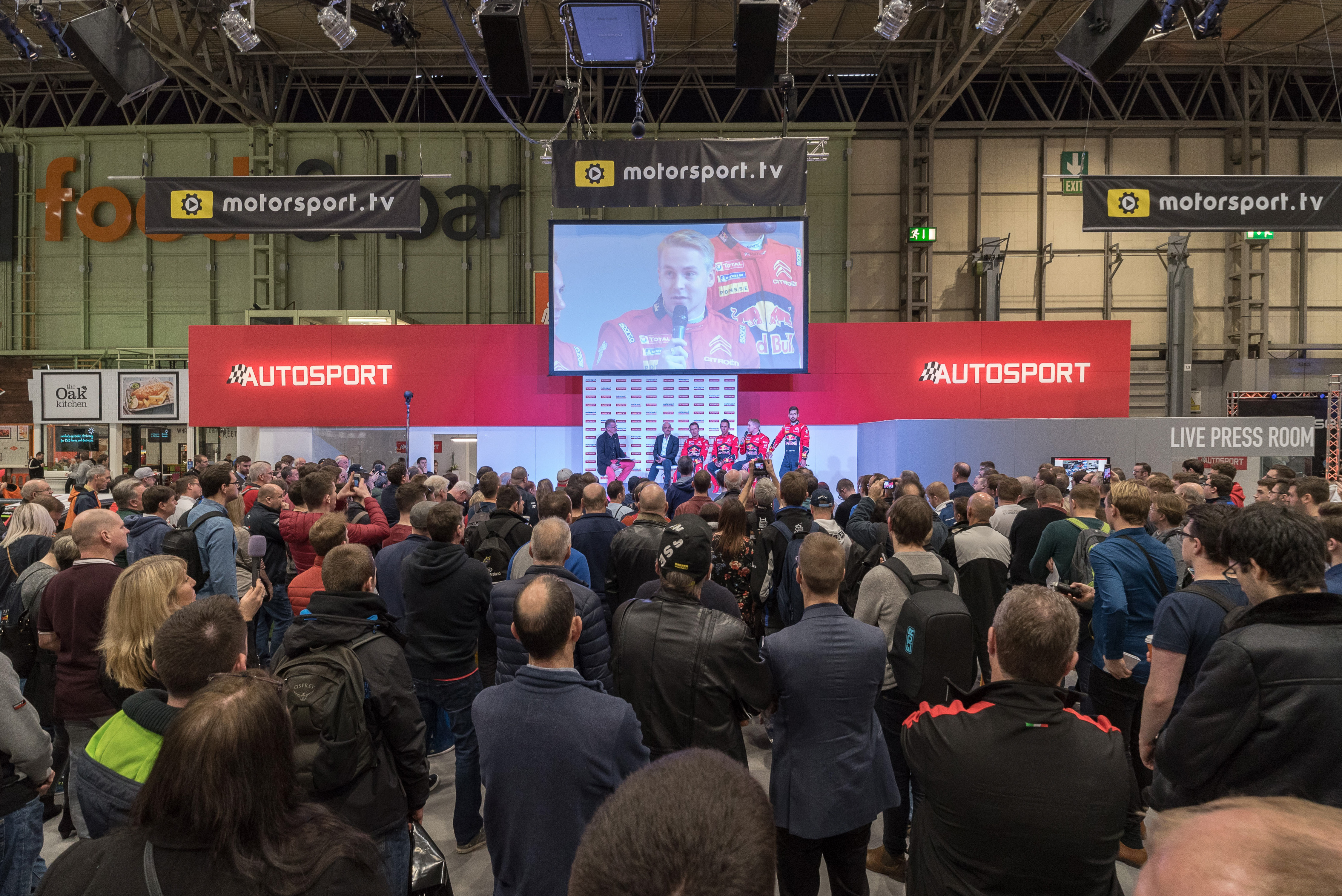 Shot on Samyang 14mm f2.8 AF

While Lee and Adam were watching the interviews with Carlos Sainz and Lando Norris I decided to have a look around at a few stands and cars I had missed the day before. Quite a surprise for me was Ariel showcasing their new motorbikes, have to say I know nothing about bikes but they certainly looked cool!
Next I took a look at the amazing F1 gallery showcasing a collection of Formula 1 images from across the years taken by some of the most prestigious motorsport photographers ever!
A real highlight of the show this year was the debut of the Porsche 935 "Moby Dick" track only car. At £625k and only 77 cars being built worldwide this is sure to become a future classic and a very rare car indeed!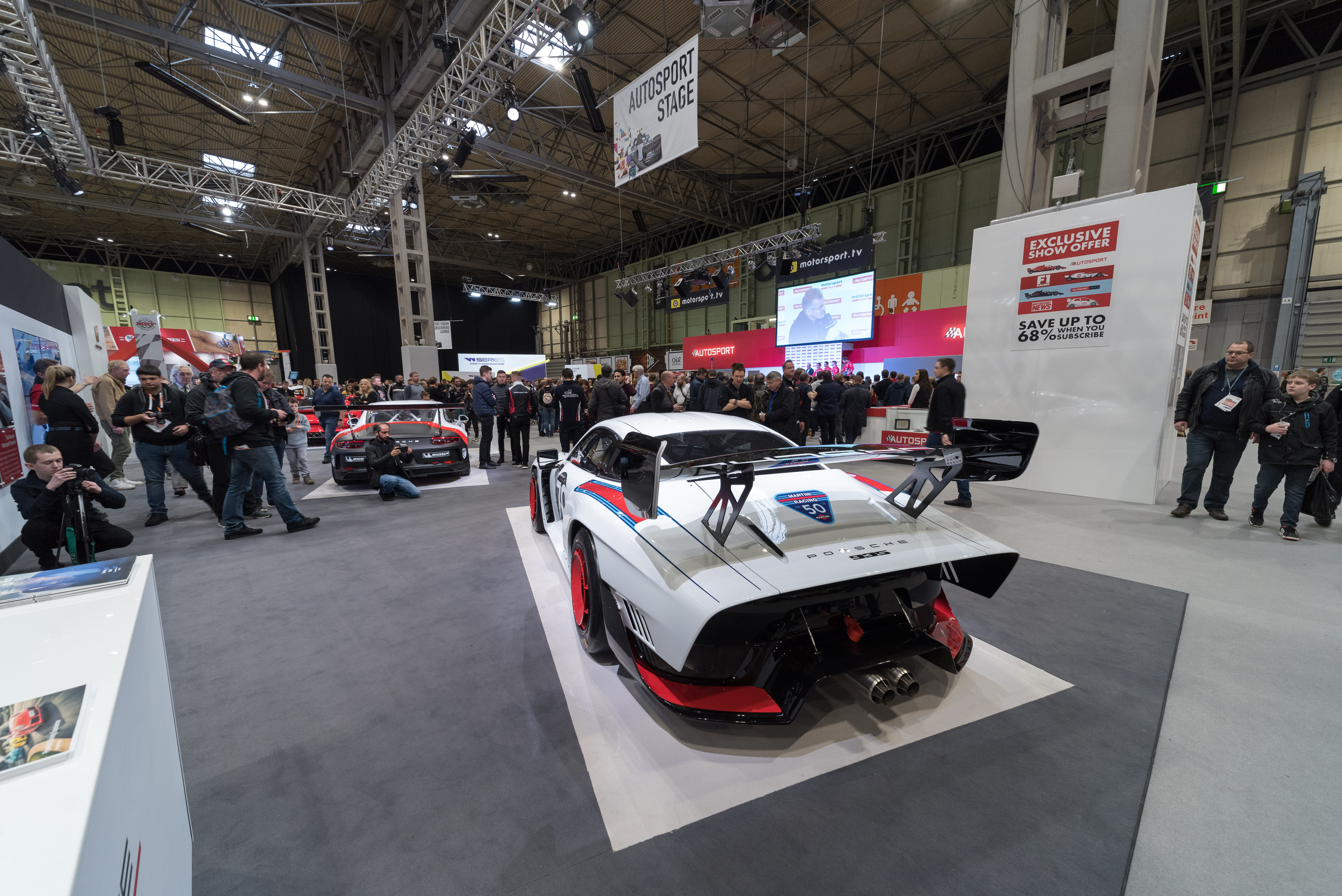 Shot on Samyang 14mm f2.8 AF

After a quick stop for some lunch, some delicious curry and chips, we headed back to the performance car show area to check out the live Silverstone Auction. The auction was in full swing by the time we got there. People frantically bidding on anything from classic minis to flawless examples of classic Porsche and Ferraris! I expect some people left that day with a very big smile on their faces if they bagged their dream car!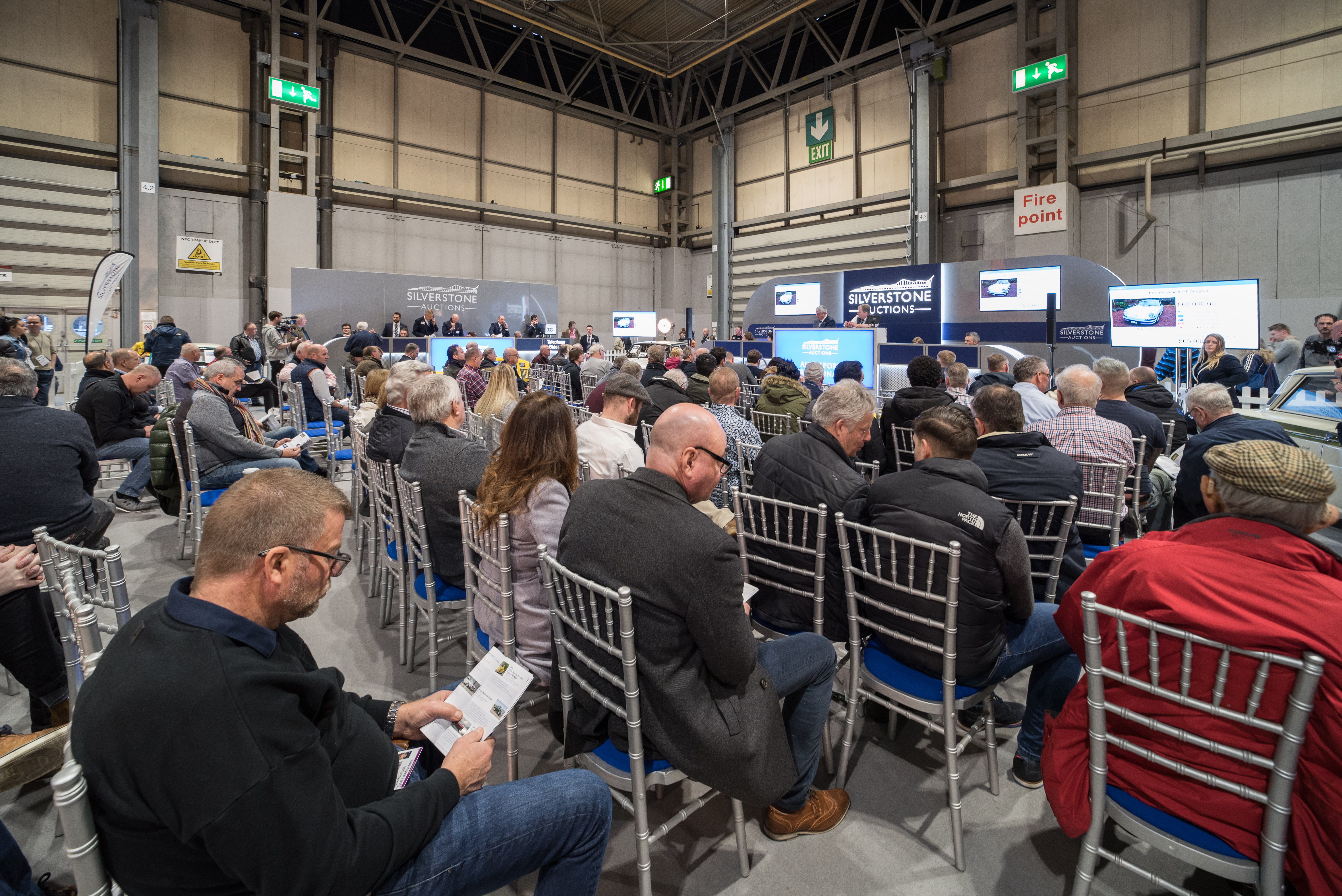 It was now time to head back to the Live Action Arena for another show that I had seen the previous day. I didn't have enough time to check out the backstage area on Friday so while Lee and Adam found their seats I headed around the back of the arena to check out the teams setting up the cars and getting ready for another live action show!
Backstage was a real hive of activity with engineers working on Billy Monger's car and teams of people preparing the various drift and stunt cars as well as the crazy swamp thing monster truck! One of the stars of the live show for me was certainly Shmee150's brand new McLaren Senna that I was lucky enough to see on his first ever drive in Cheshire on his collection day just a few days earlier.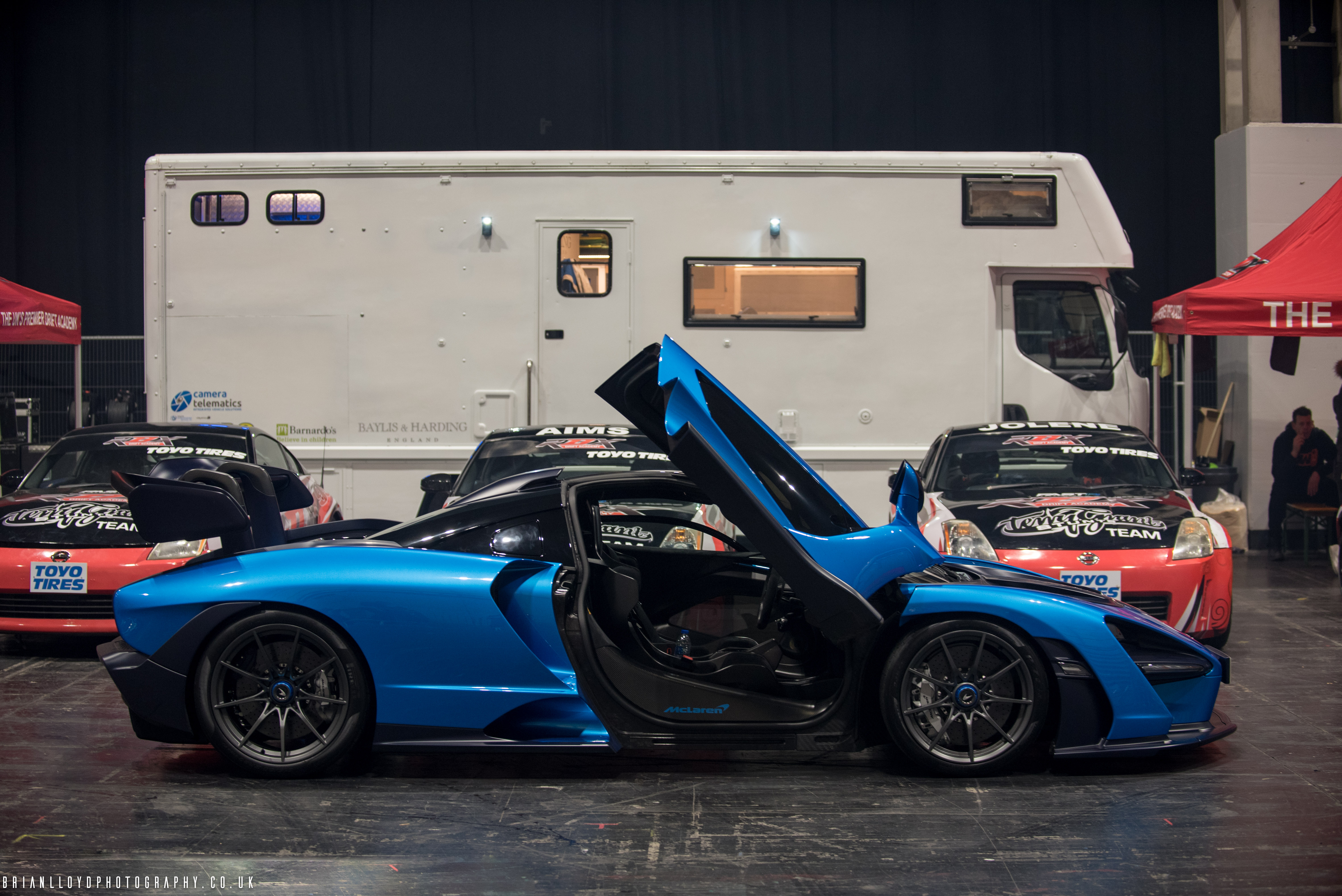 After a good look around the backstage area I got myself signed in and set up in the press area of the arena and waited for the show to begin.
As I mentioned before the show on Friday seemed to lack some of the spectacle of previous years but Saturday seemed somewhat different, not sure if it was being on the opposite side of the arena or just knowing what to expect but Saturday's show seemed to be way more exciting.
The usual lightweight racers and pre 90s touring cars had some fun with their exhibition races then we were treated to some smoky donuts from Billy Monger and his F3 car. Next up was Terry Grant and his team of drift girls in their crazy Nissans, the car control needed to slide around an arena like that is amazing and they put on a great show. Along with the Italian Job Mini tribute the show was shaping up to be a great addition to the event once again!
The show finale seen Terry Grant doing huge donuts on a raised podium and as if that wasn't enough he stepped out of the car mid donut and was winched away to the clouds! At the same time we had a Fiesta going backwards on two wheels and the huge Swamp Thing monster truck doing some donuts as well! Have to say that thing did scare me a little, being so close to the track and with only a very small barrier between me and Swamp Thing I hate to think what would happen if it came for me...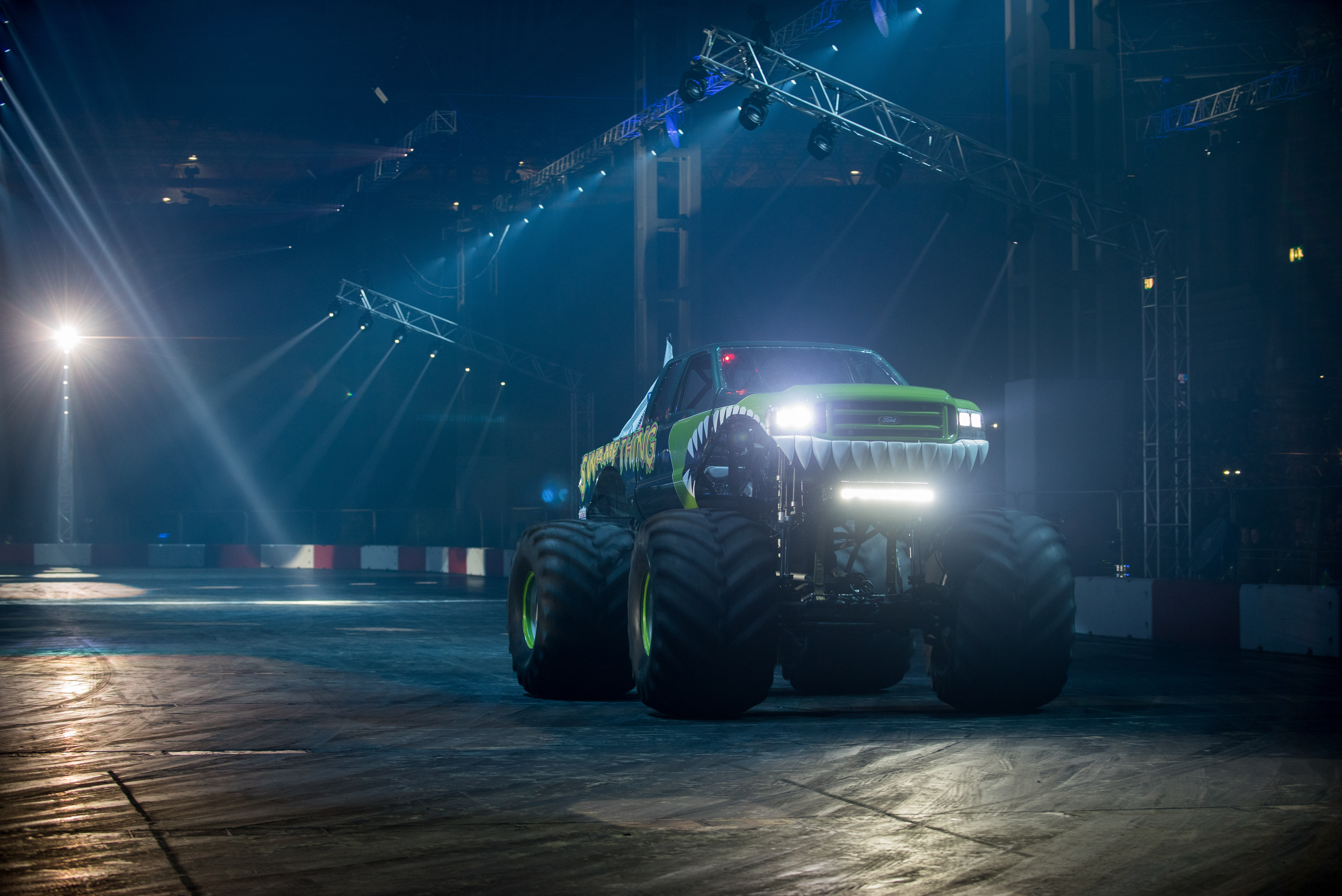 With the live action show finished and me splattered with plenty of rubber from the drift cars the event was almost over for another year. It's been a great show and a fantastic start to the new year as Autosport usually is. There are some very special car launches this year that I cant wait to see so stay tuned for plenty more to come from 2019
Special thanks to Samyang UK, Intro2020 and Hoya Global for supporting the event, check out the links below to find out more.
https://www.facebook.com/SamyangUK/
https://www.facebook.com/intro2020/
https://www.facebook.com/spannermonkeyz/
https://hoyafilter.com