Goodwood Festival of Speed 2018 Day Two
Day Two arrived and again I was out of bed like a shot at 5am! My airbnb had been great apart from their smoke alarm going off twice in the middle of the night.
Made the short journey across to Goodwood and could get started straight away with no signing on and no waiting in line either. In the show and ready to go before 7am this time!
As I'd not had chance to see any the day before I headed straight to the manufacturer stands and had a good look around while it was quiet, as with last year the future lab was great and had some really cool things on display including a jet pack! More on that later though... The roborace VR simulator was a really cool addition and a robot bartender of all things!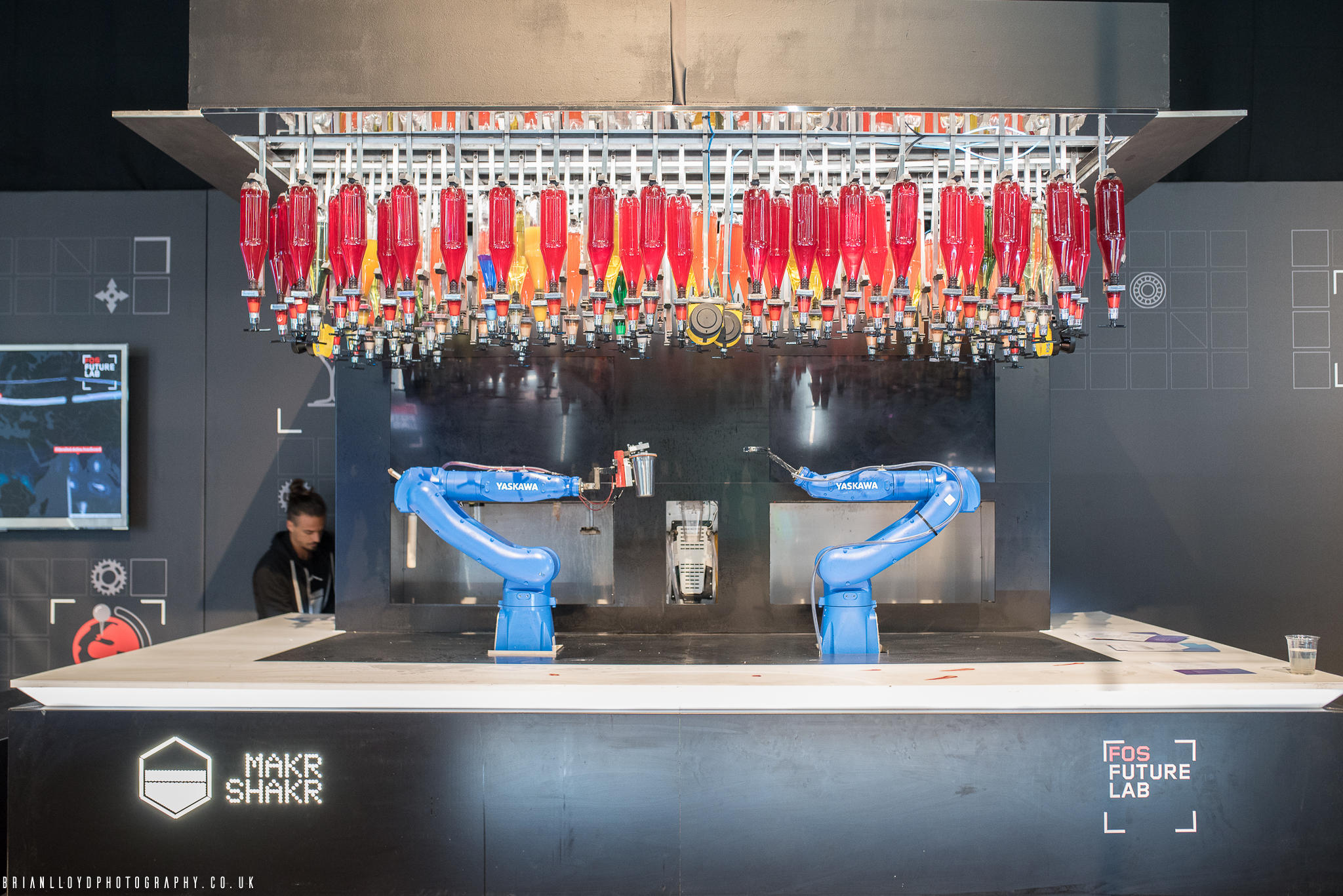 The Polestar stand was also a highlight I thought, a revival of an old brand under Volvo but a stunning looking car and a really interesting hybrid powertrain. The interior looked fantastic as well with a full glass roof which I expect feels great when driving it!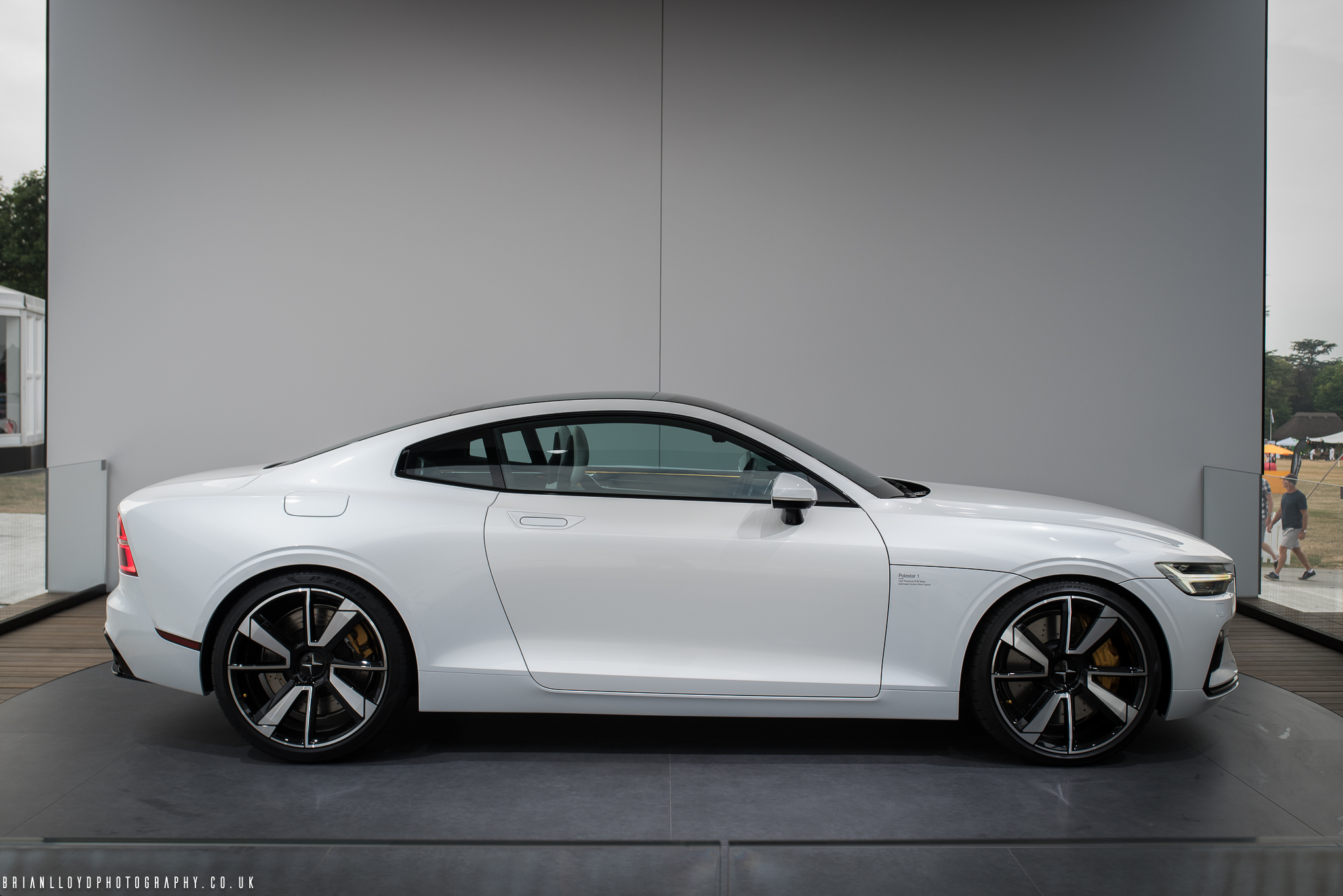 After about half an hour of looking around the deserted manufacturer stands that would be complete chaos later in the day I got an early message from my friend Norman Shum, the founder of
Cars and Coffee Liverpool
and a true petrolhead in every sense of the word!
Norman was a guest with BAC for the weekend so I made my way over to meet him. Really great hospitality from the guys at BAC who even took us for a nice breakfast and provided a nice place to chill out and refresh throughout the day! Thanks to all the guys for the warm welcome especially Rainer Kuhlwein, BAC's director of marketing for showing us around their stunning cars, even Rainer couldn't resists a photo next to their Autodesk car, the hand painted air flow lines on the car looked fantastic and I'm sure Autodesk will be over the moon when they take delivery! For more information on BAC check out their website -
http://bac-mono.com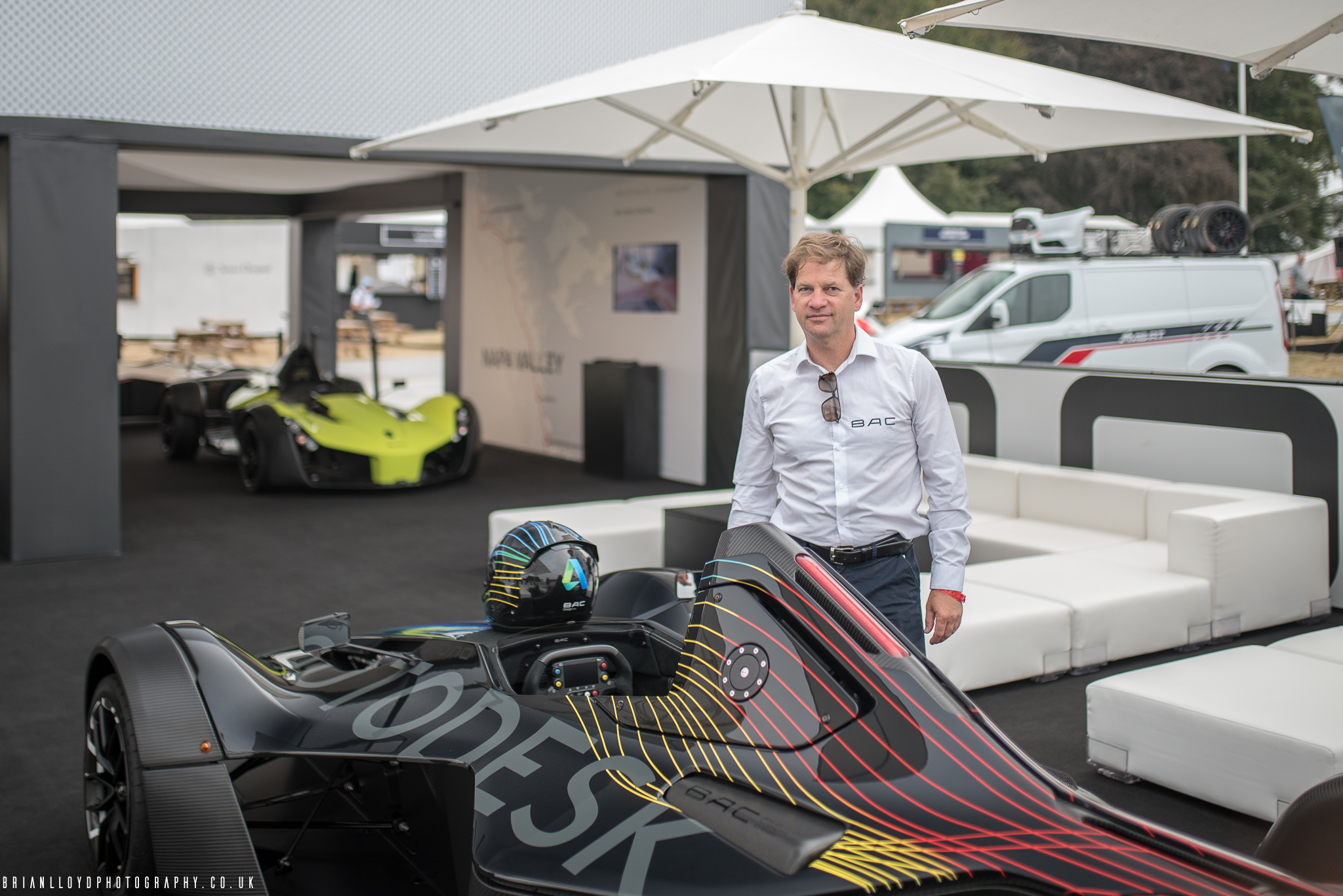 After breakfast we headed out into the show and decided to start away from the usual supercar paddocks and have a look around the cars on display to celebrates Goodwood Silver Jubilee, the cars on display were superb as expected with everything from the famous maroon McLaren F1 previously owned by Rowan Atkinson to a Veyron, Koenigsegg and Ferrari Enzo!
Headed next to Tesla and had a look around the new model 3, the first car in the UK which was certainly getting a lot of attention with queues just to sit in the car. Got very much sidetracked chatting to some of the guys about the estate version of the Model 3 created by Qwest Norfolk, the cool creation you might have seen in my coverage of the London Motor Show. I was lucky enough to get invited over to Tesla's showroom in Manchester to test out some of their cars so watch this space for my blog about the day coming soon!
It was time to head back over to the supercar paddock as Norman had not been over that way yet so we made our way across the track and over to the Michelin area. A few new cars had arrived since Thursday, one being the Zonda HP Barchetta that had huge crowds around it all day, this gives you an idea why I get over here early in the morning to avoid scenes like this!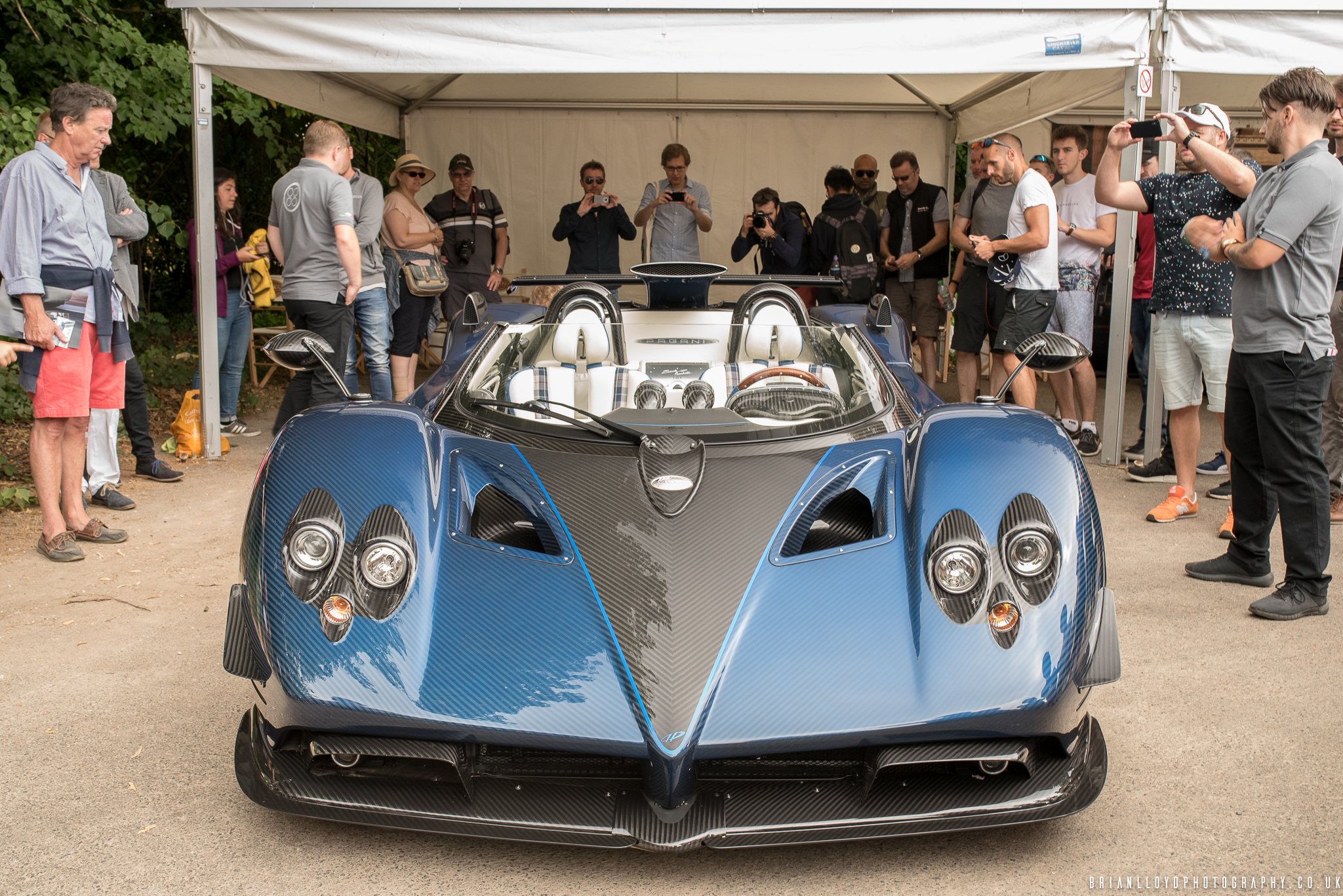 It was nice to take in the cars a bit more rather than from behind the viewfinder all the time. I often miss details of some cars by being too focussed on getting the shots I want rather than just appreciating the cars in all their glory!
Next up we headed across to the Singer stand and my Porsche crash course began! Norman really is an Porsche encyclopaedia and filled me in on all the details of the Singer range as well as plenty of beautiful Porsche on the Cartier lawn. The blue speedster was a highlight for me when I learnt it was the model that James Dean was sadly killed in and this actual car was once owned by Jerry Seinfeld!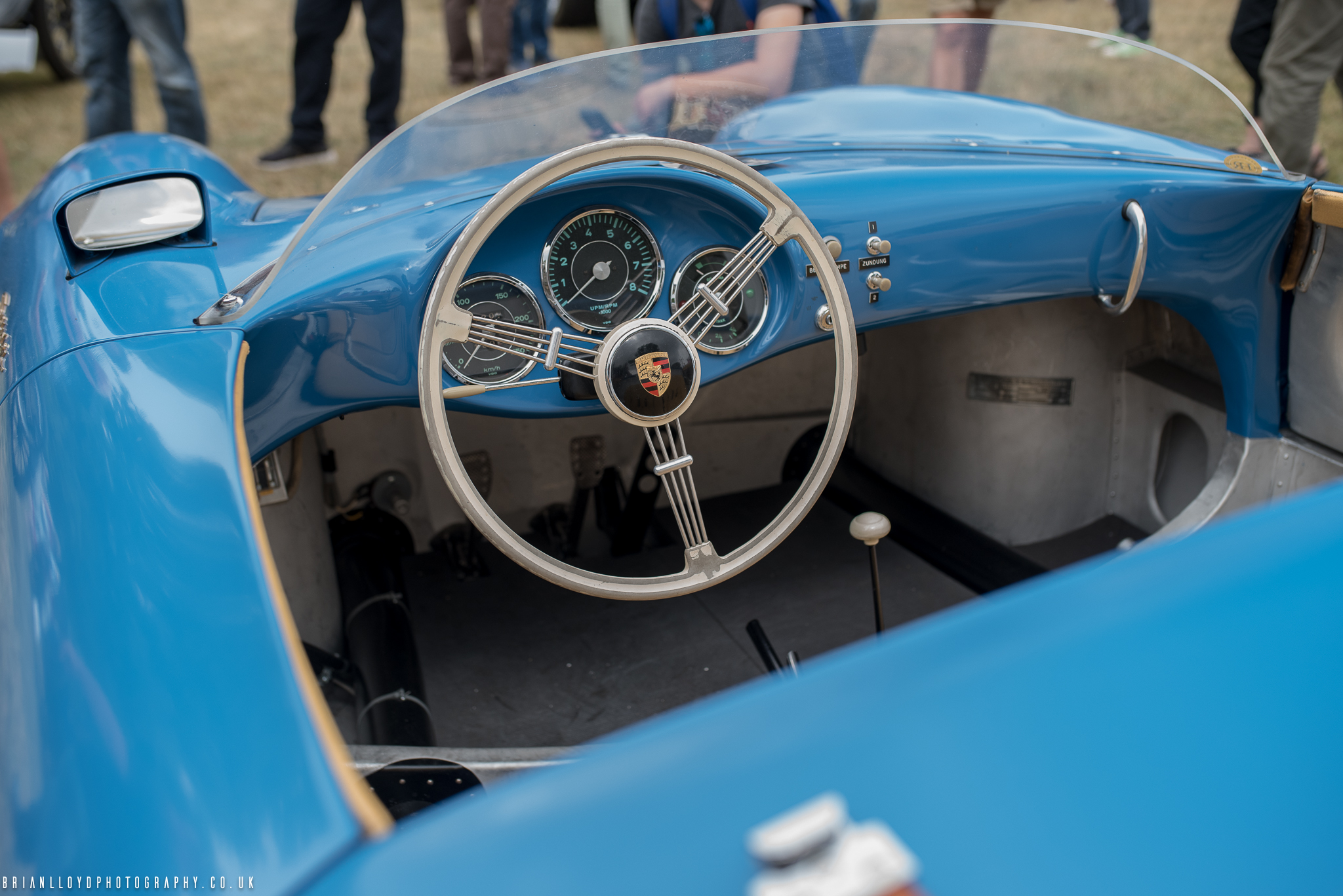 After a good look around the Cartier lawn, Rolls Royce stand and the BMW stable yard we headed over to the race paddocks to continue my Porsche lessons.. I really have found a new appreciation for Porsche this year, with their 70th anniversary celebrations throughout 2018 there have been plenty of events showcasing the marques greatest creations. Thinking back one of my scariest experiences driving any car was in a Porsche 911 Turbo S in the rain on an open runway a few years back actually! Terrifying but memorable experience!
We ended up right in the middle of the mayhem that ensued when all the Porsche cars were heading out of the paddock for the Porsche moment celebrations outside of Goodwood house. As soon as they cleared out we headed to the house to see the cars arrive. This was another pinch myself moment for me.. As the cars were preparing to approach house the driveway was closed to the public and I found myself in a crowd of photographers from all the worlds media jostling for the best position to get shots of the cars as they drove towards the house!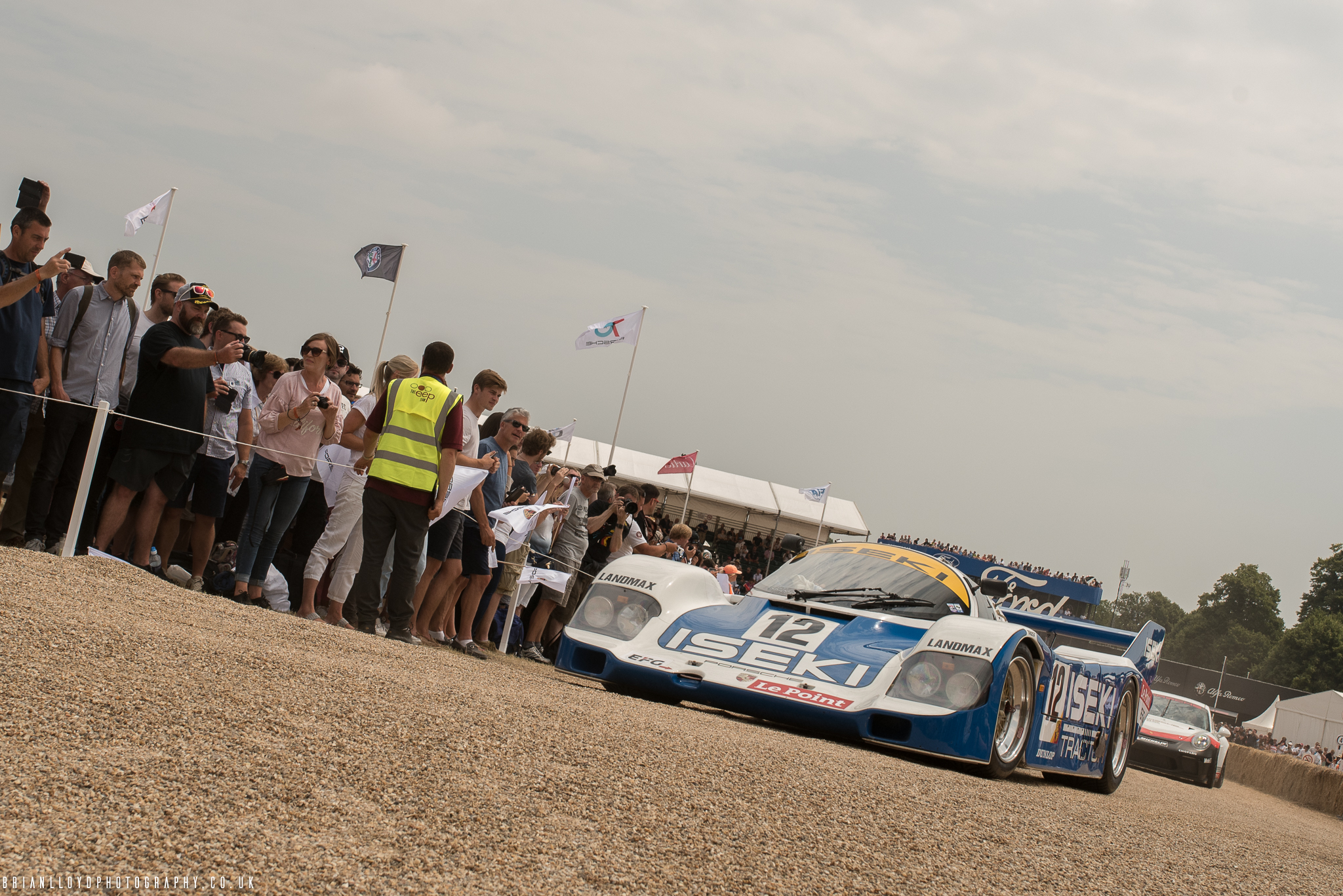 By now it was around 1pm and time for me to head back to the media centre for some lunch and to collect my tabard for the day again. Asian pulled pork and sticky rice went down a treat, grabbed my tabard and met back up with Norman to head over to the Porsche owner club. Magnus Walker was doing a book signing there and I have to admit not being a Porsche aficionado I didn't actually know who he was (sorry to any Porsche fans reading). I since found out he is a fashion designer, author and a huge Porsche collector with over 25 cars worth upwards of $7.5m!! Norman and him are good friends so we waited for the guys queuing for book signings and had a chat with Magnus. A really friendly guy who even gave me some stickers to take home for my son!
With the day getting on it was time for some ice cream and a stroll around the market stall section. Some really cool automotive things on sale here and I could have spent a fortune on all kinds of things. Shame about the guy with the art work getting so angry at me taking photos of his stand but not to worry...
We then finally met up with Chris James who I'd kept missing the day before. Chris produces some excellent motorsport and automotive images and you can check his page out here -
Christopher James Photography
With the afternoon drawing on I had to get some trackside shots to finish the day so said my goodbyes to Norman and Chris and headed for the hillclimb where I found a perfect spot right under the bridge by the house. As it was late in the day most cars were on their last runs of the day and that usually means one thing, destroy the tyres with huge burnouts!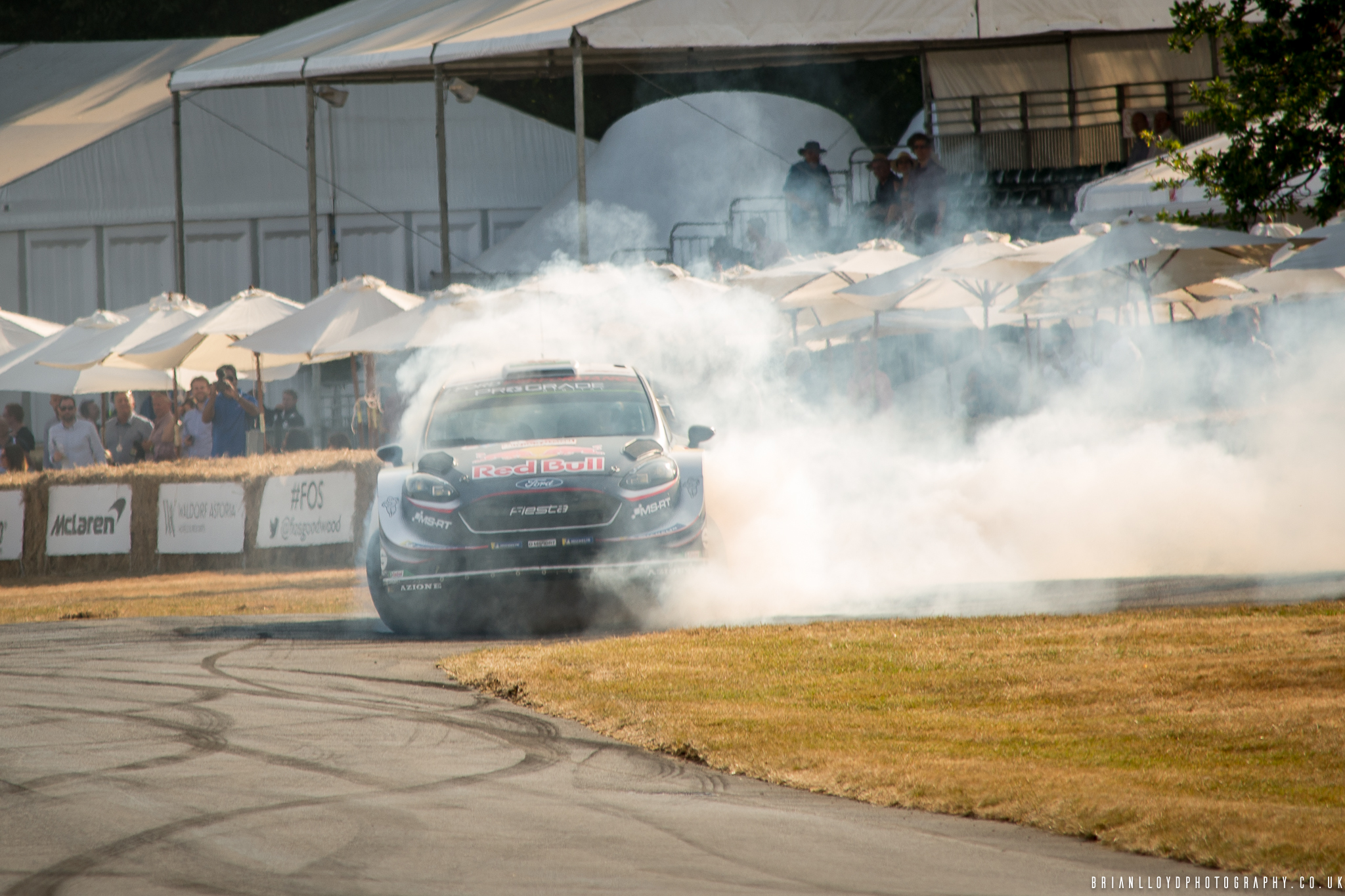 Being this close to these cars driving so crazy was fantastic but nothing could ever have prepared me for what was coming next.. first of all I heard it, a very loud jet like noise, I couldnt see anything, looked up the track expecting some kind of jet powered car to come flying down the straight but nothing came.. then, all of sudden a man on a jet pack appeared right before my eyes and actually flew underneath the gantry! The future had finally arrived and it looked and sounded amazing!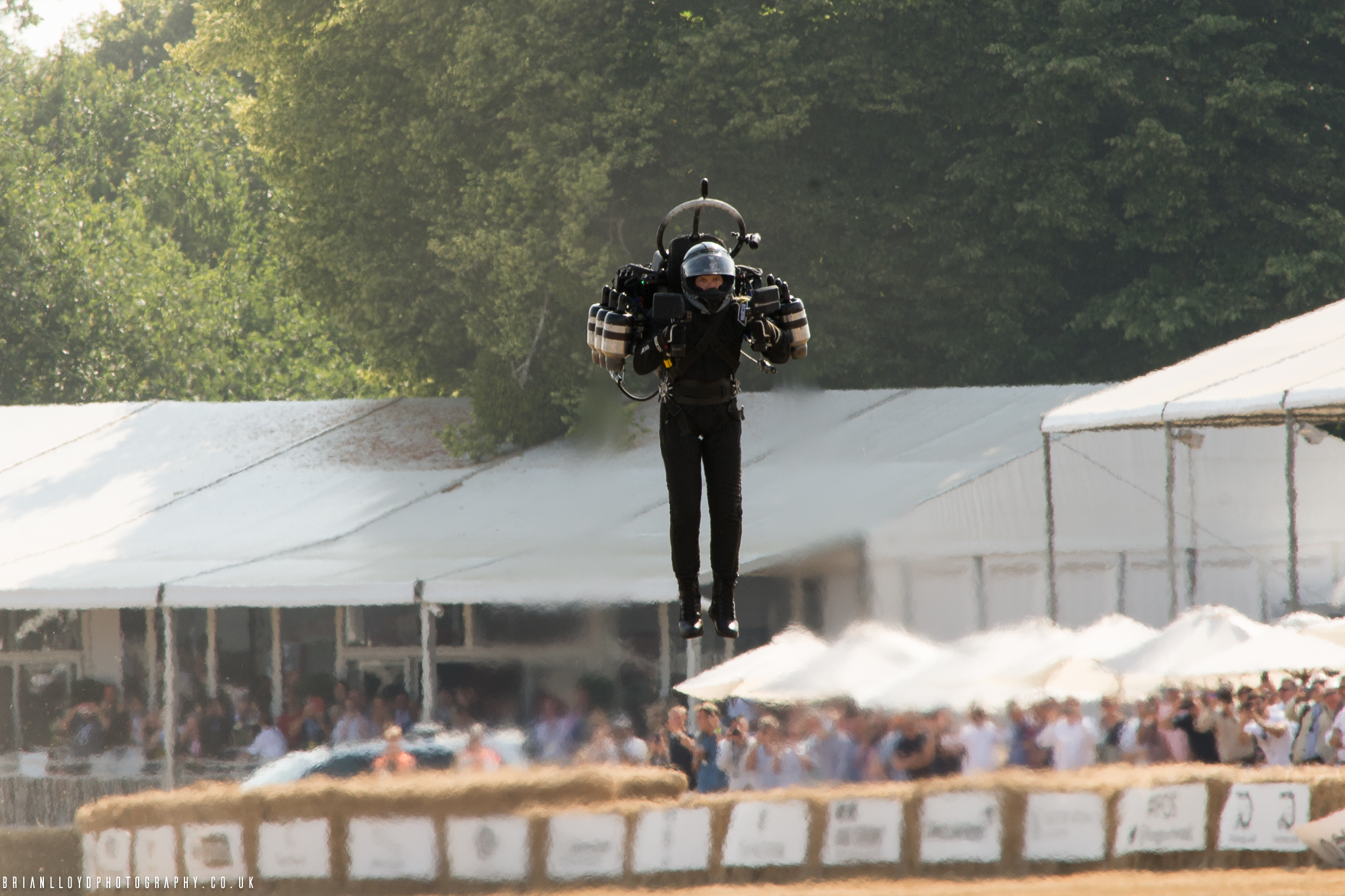 There had been a lot of delays on the hillclimb throughout the day with red flags here and there and a Lexus race car bursting into flames when it dumped a tank full of fuel all over the road so the hillclimb runs where carrying on until nearly 7pm! The dipping sun made for nice light over the cars coming up the hill which was a nice added bonus!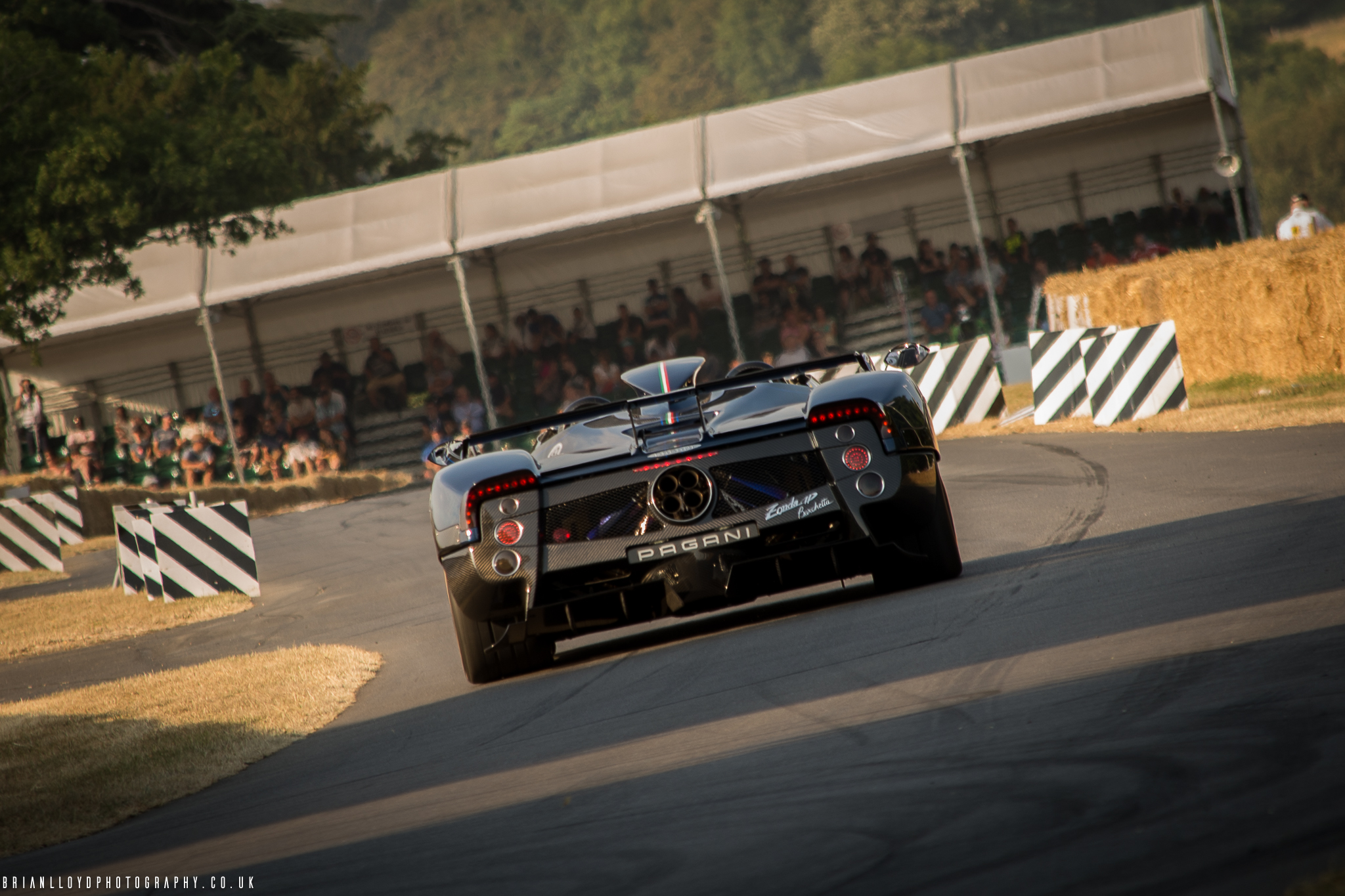 And after the last runs up the hill it was the end of the day for me and sadly the end of Goodwood for another year. My biggest regret was that I didnt stay for the full four days but I left my accommodation a bit too late this year so couldnt get anywhere realistic to stay on the Friday evening. You can bet I'll be doing the full four days in 2019 though!!
Another amazing year at Festival of Speed done!