Goodwood Festival of Speed - Day Two
Friday was here and day two of the Festival of Speed was upon us.. after an amazing first day I couldn't wait to get back and see more of the event!
We set off a little bit later than planned but still arrived at Goodwood around 7:30am, not quite early enough to beat the crowds but a nice early start nonetheless!
A stroke of luck seen us end up in the parking area right by the supercar paddock so this was the obvious place to start the day and see what cars had arrived overnight. Very obvious additions from the Friday was the stunning Koenigsegg Regera and the Pagani Zonda R track only car, a stunning piece of design and what a noise as well!! Something I didn't look too closely at on day one was the Brabham stand and the BT62, the first time I've seen it in anything other than the green heritage livery. With a diffuser and wing like that this thing certainly means business!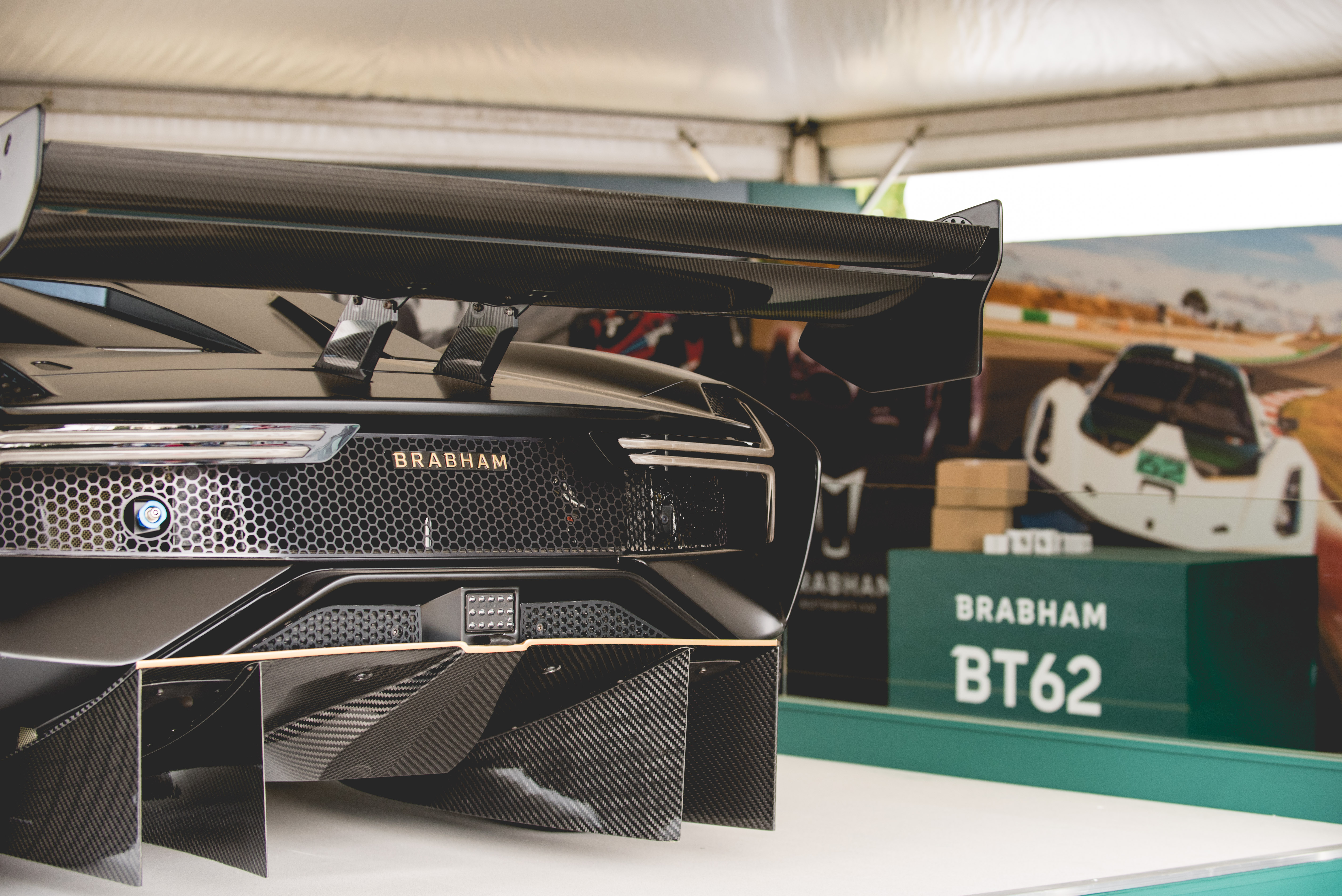 We stayed around the Michelin supercar paddock for around an hour or so and then headed off for some much needed coffee and breakfast to start the day properly!
The new drift area known simply as The Arena was in full flow on the Friday, the area had been used for something similar to the old moving motor show on the Thursday with a variety of cars setting off from here on their hillclimbs.
This seemed a great new addition to Goodwood and was certainly very busy, quite difficult to get anywhere near the track action once the viewing areas had filled up. Even so, there was a large paddock area with plenty of mad drift cars being prepared for their runs later in the day.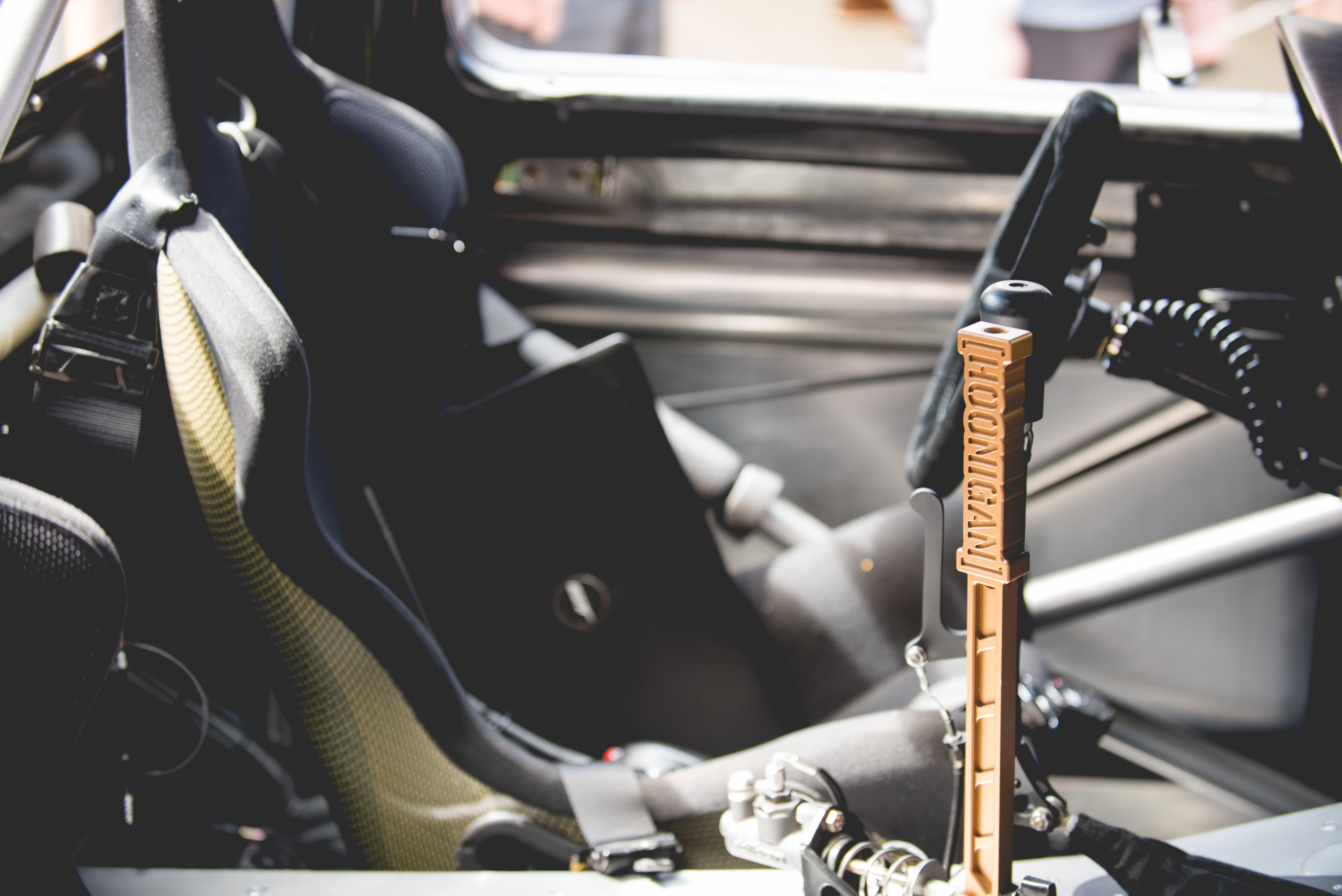 Perfectly placed near the Arena was the launch area for the brand new De Tomaso P72. We had missed the actual launch the day before but the car was on show and being driven all weekend. I think this could have been the show stopper for 2019 to be honest, what a beautiful machine! I'm not sure how I feel about them using the De Tomaso name as the car really doesn't resemble any previous models but it certainly is a historic name to resurrect. The same team behind the Apollo IE is responsible for the car so I expect it should look equally as stunning when its launched. I think it looks very much like the Ferrari P4/5 commissioned by James Glickenhaus.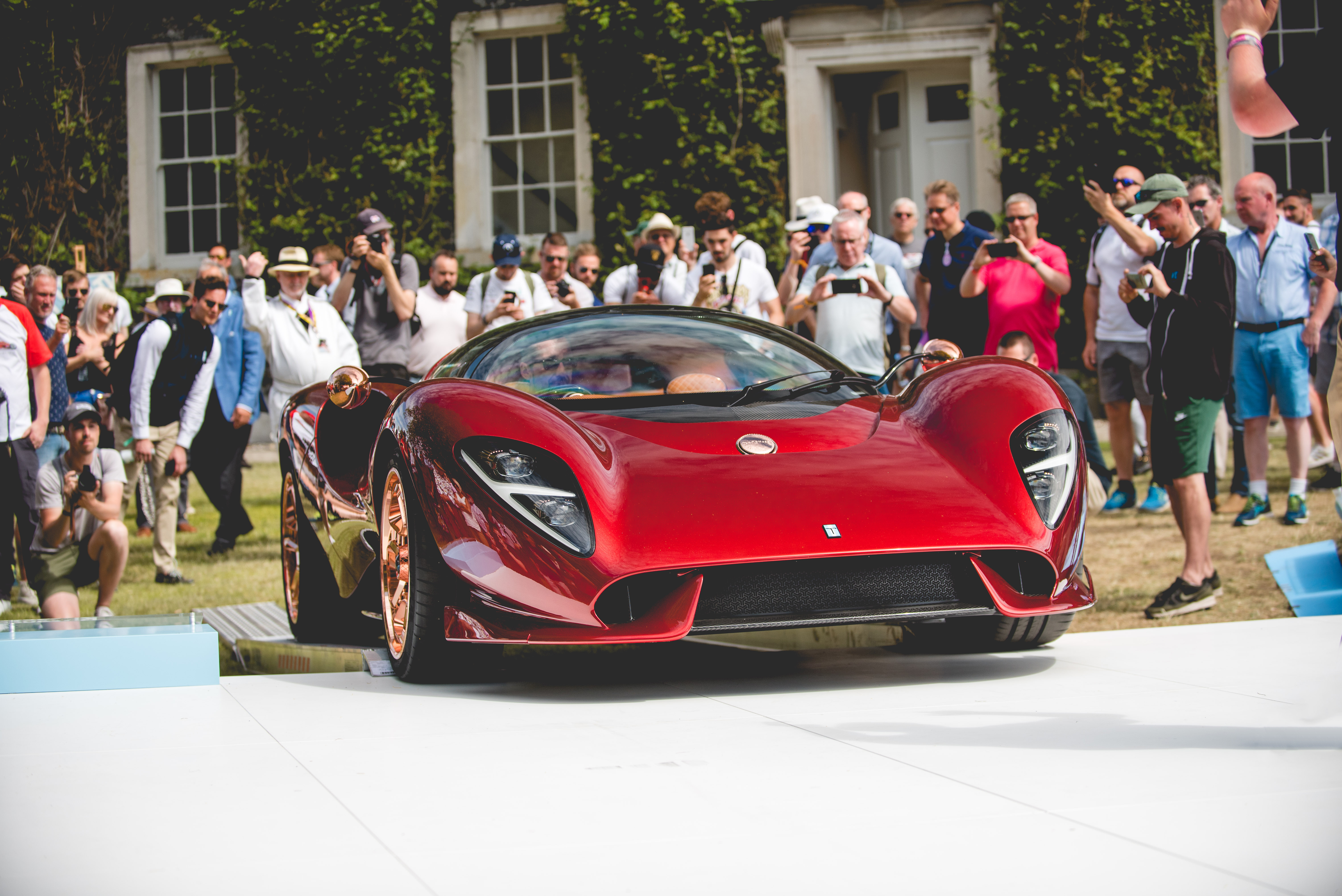 After a good look around the De Tomaso and hearing it fire up and head off to hill we headed towards the main paddock area. A quick stop to soak up the sun and have a cold drink was perfectly timed to watch the Red Arrow display! Never ceases to amaze me how impressive their aerobatic displays are!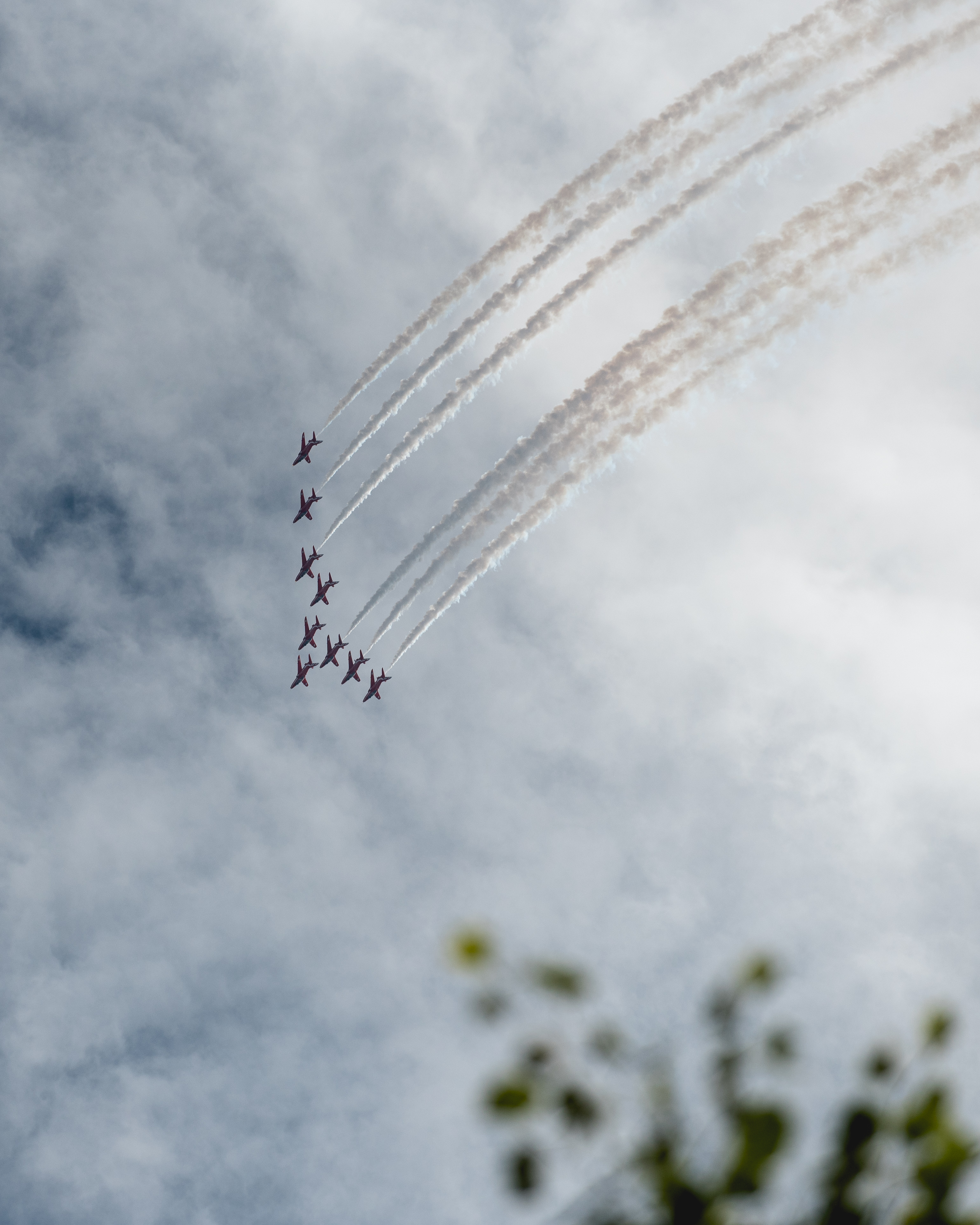 The main paddock area of Goodwood is by far my favourite part of the event, the sights, smells and sounds are just incredible here. Essentially it's like a working paddock with all manner of cars being prepared and often repaired all in full view of the spectators. The eclectic mix of cars is hard to put into words. Everything ranging from a row of 917K race cars to pre war cars and of course modern F1 cars from almost every team on the grid. Where else can you see and hear F1 cars quite so close!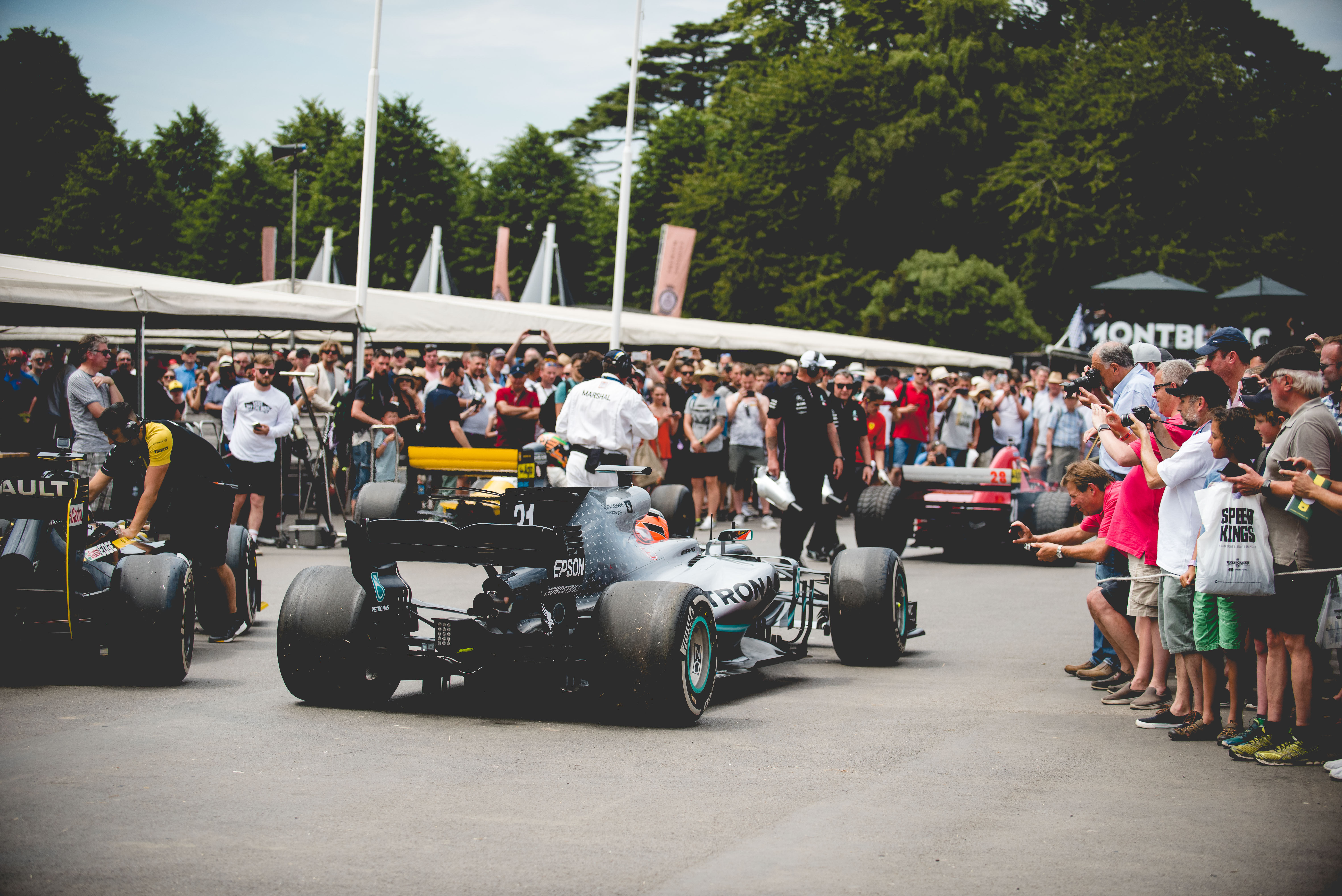 This year was celebrating 70 years of Aston Martin at Goodwood and that meant that almost every racing Aston from the last 70 years you could possibly think of was not only on display but being driven at speed up the hill. Some of these machines I expect are priceless and are true motoring icons!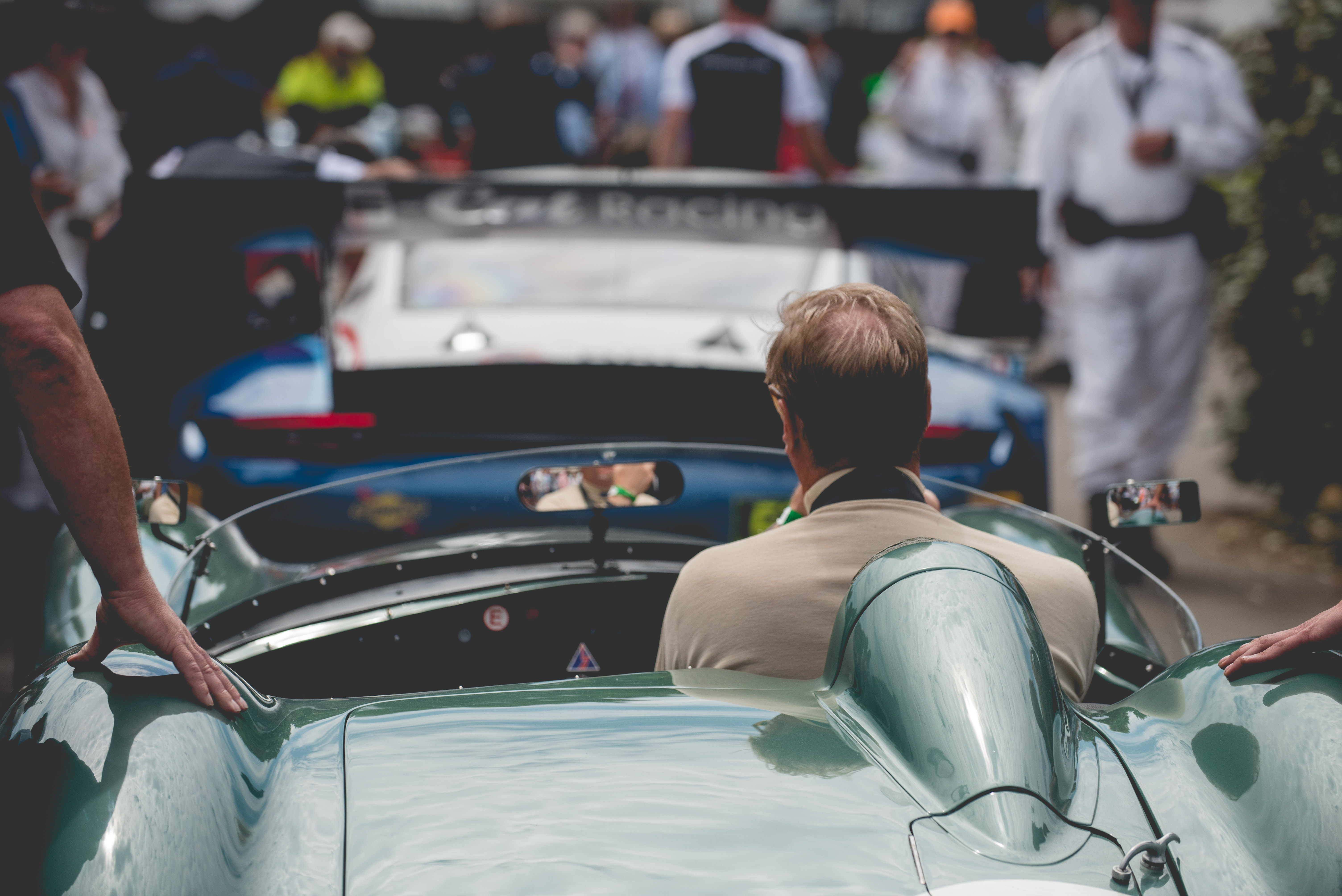 The experience of being so close to cars like this is why Goodwood is so unique, even the smells from these classics is amazing and being amongst so many gives me goosebumps every time!
I had spent so long in the paddock area I'd lost my friends somewhere along the line so had to head across the bridge to track them down. A quick stop for some lunch and it was time to continue exploring.
We headed through the market exhibitor area and towards Jaguar and Land Rover, Jag had their F-Type rides available again with passengers able to go for a quick few laps around a small drift circuit. Always love the smell of burnt rubber around here, strange to some I know but I love it!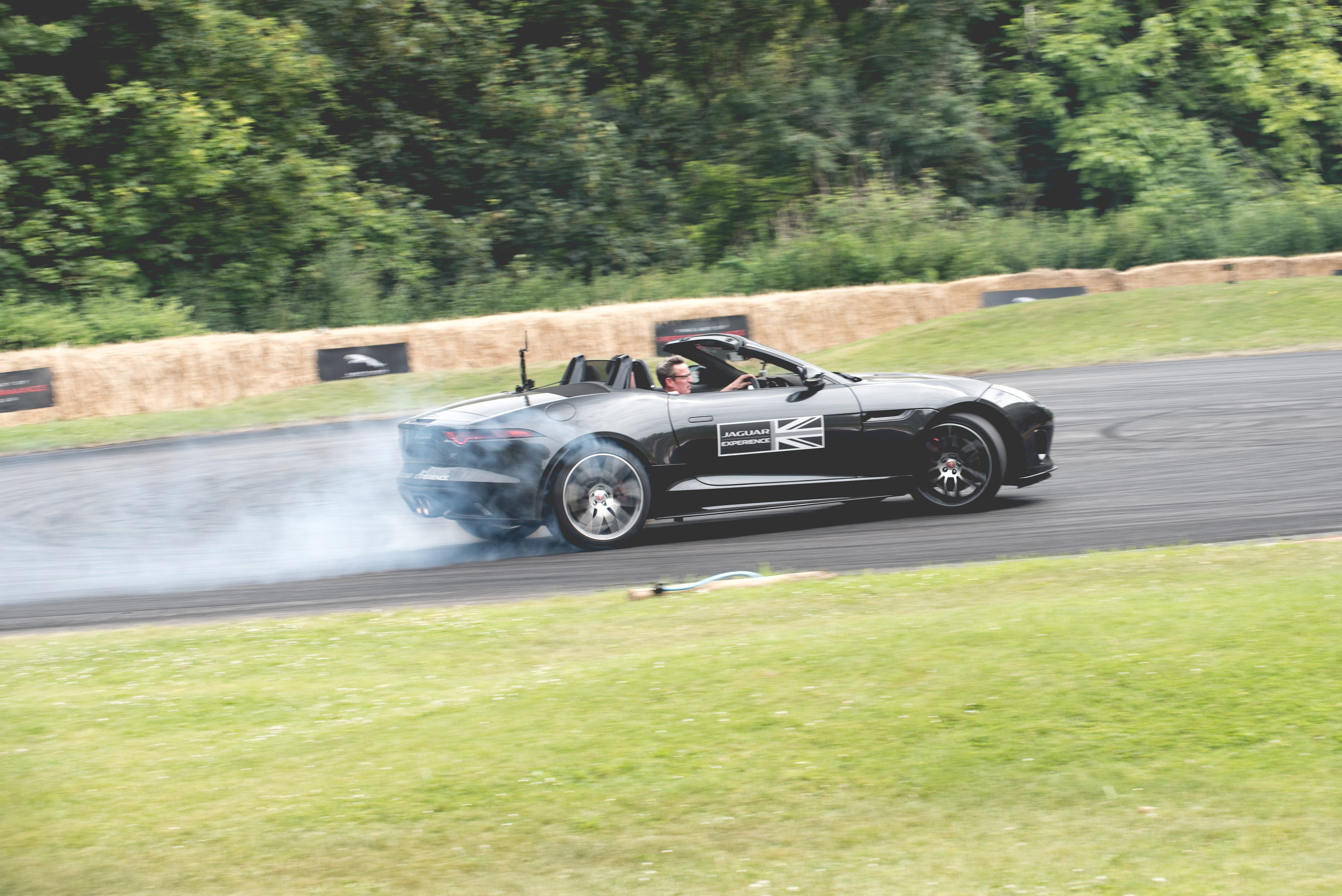 Next up was Porsche and their usual huge stand and off road area. Porsche have really grown on me over the last few years and they seem to just be improving all the time. The 935 Moby Dick that was running up the hill was fantastic and as always Porsche had their popular Cayenne S SUV doing off road laps of their purpose built circuit. Something I'd love to try one year.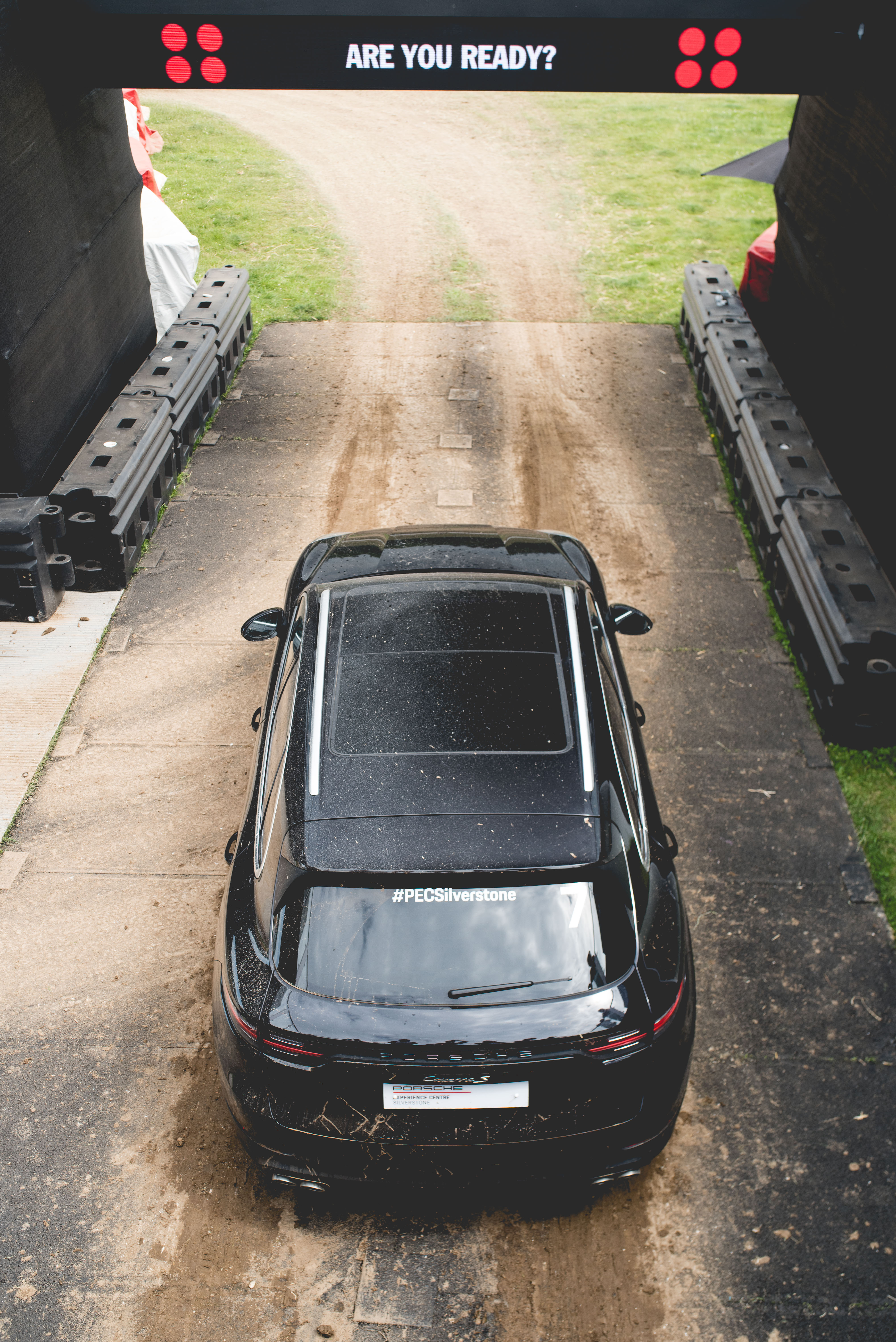 After Porsche we headed back towards the manufacturer stands to check out a few we had missed the day before. Its hard to call these stands really, they are more like temporary showrooms to be fair. Ford for example had a 3 storey building with simulators, badge making and a rollercoaster around the outside.. yes, you read that right, a rollercoaster!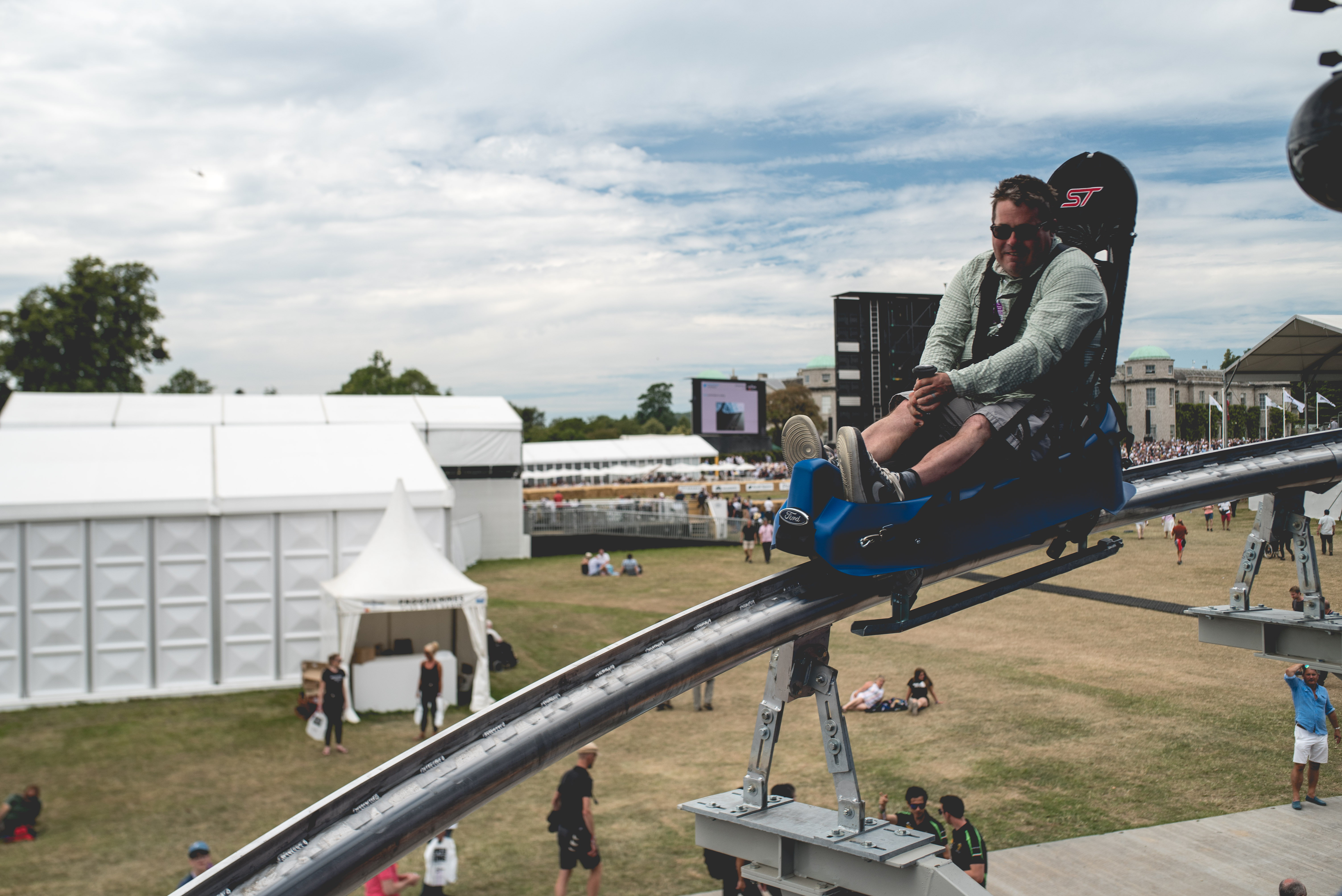 One car I was interested to see this year was the Polestar Two, last year Polestar debuted the One and was a really interesting looking car. This year they were back with their SUV style vehicle the Two, it will be interesting to see how this brand progresses and looking forward to seeing them out on the roads soon.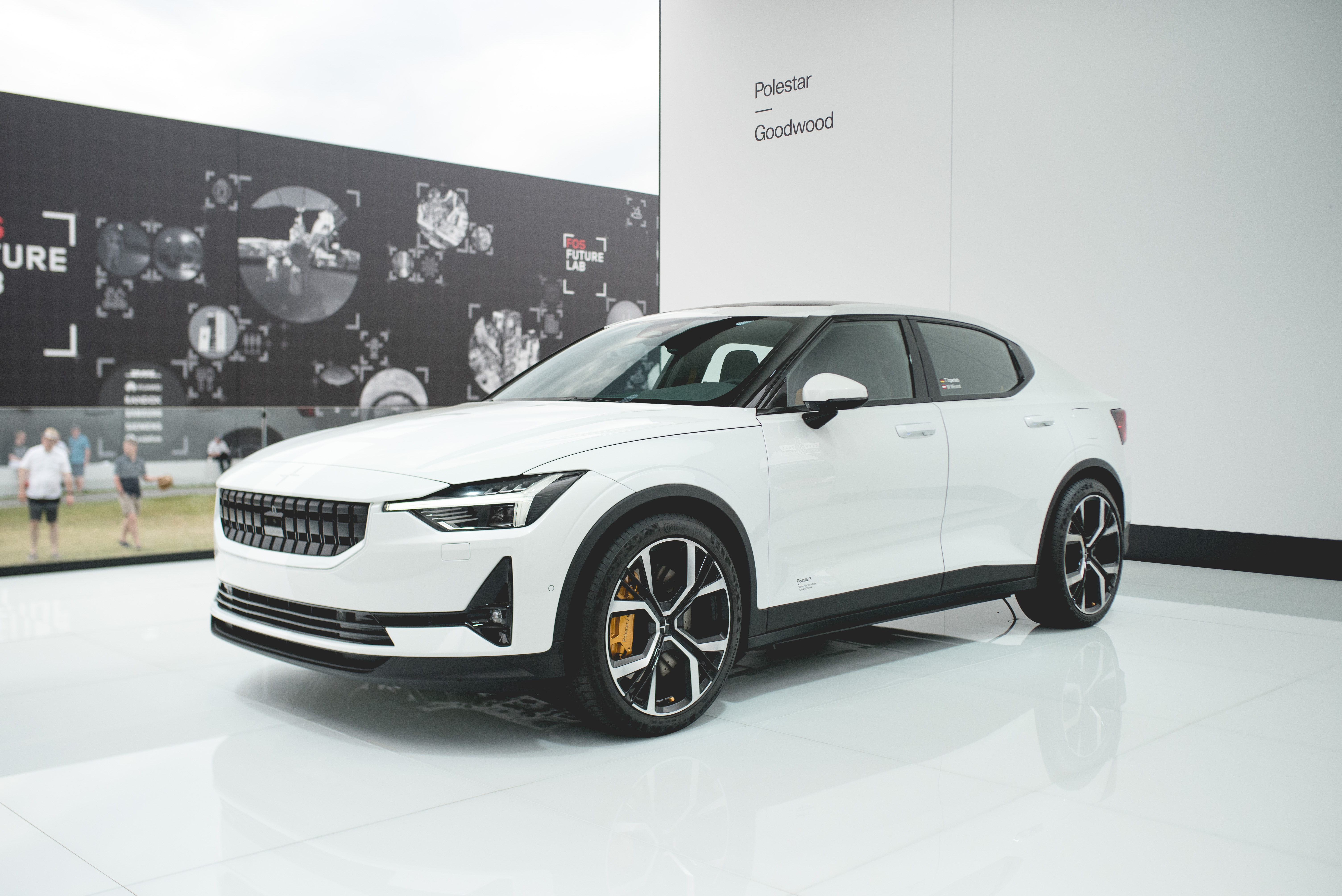 One of my all time favourite marques has always been Alfa Romeo, anyone that knows me will know how long I have wanted to own an Alfa for so I had to check out their stand. They had a limited edition Giulia running up the hill, the Sauber Racing Edition, limited to only 10 cars, this was an incredible looking machine and certainly one of my highlights of the show. Alfa also showed their brand new Tonale 2+2 SUV which was a beautiful looking car but for me the Giulia will always get my choice. Heres hoping the Giulia Coupe comes soon!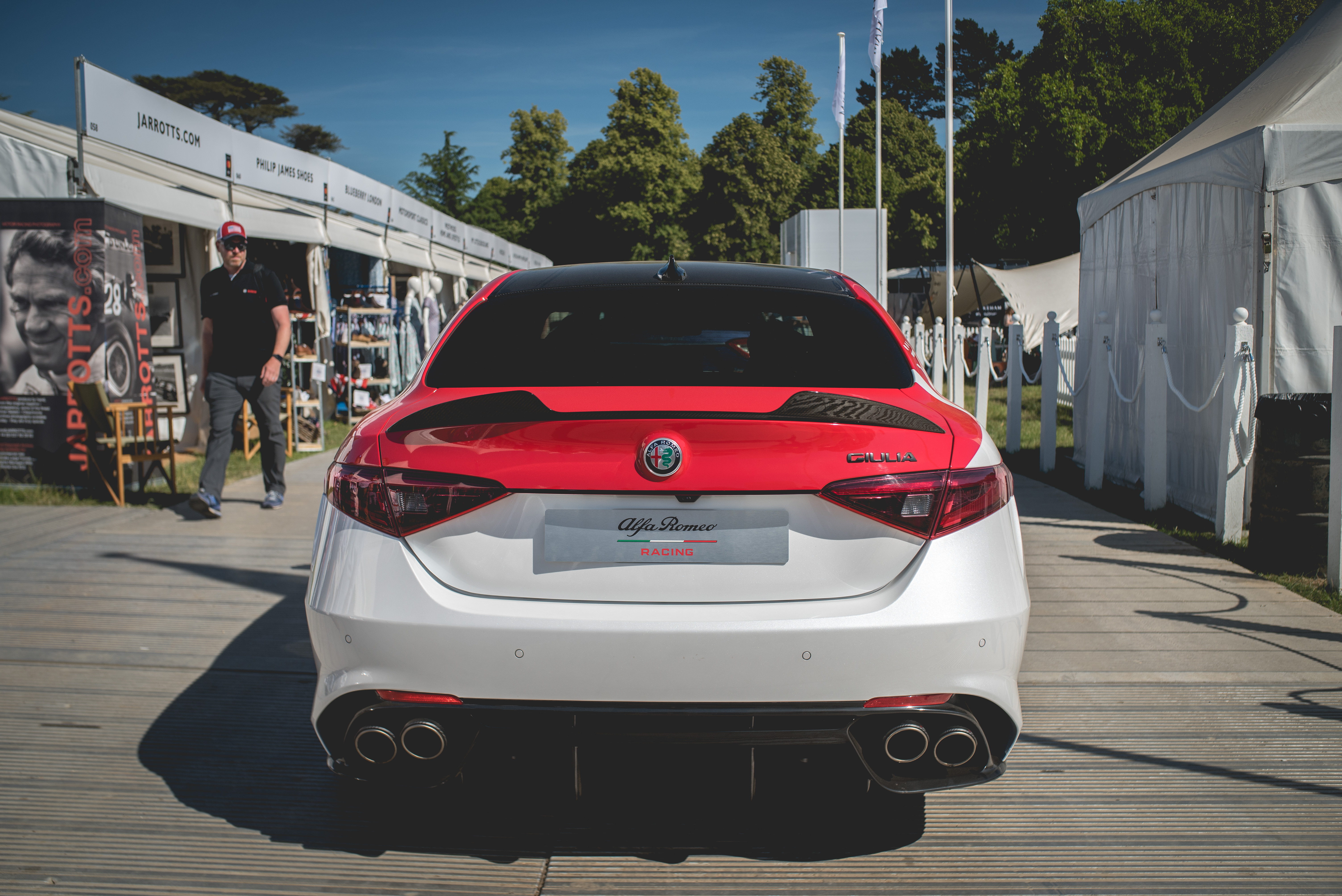 After leaving Alfa Romeo I spotted a few television cameras around a line of Pagani Zondas and a Huayra Roadster that grabbed my attention. After walking over to see what the commotion was it was none other than Horacio Pagani himself! Had to wait for a quick selfie with him and got a few decent shots with his cars as well. What an absolute legend this man is and to see him next to his works of art on the 20th anniversary of the Zonda was something very special and again something you will only find at Goodwood!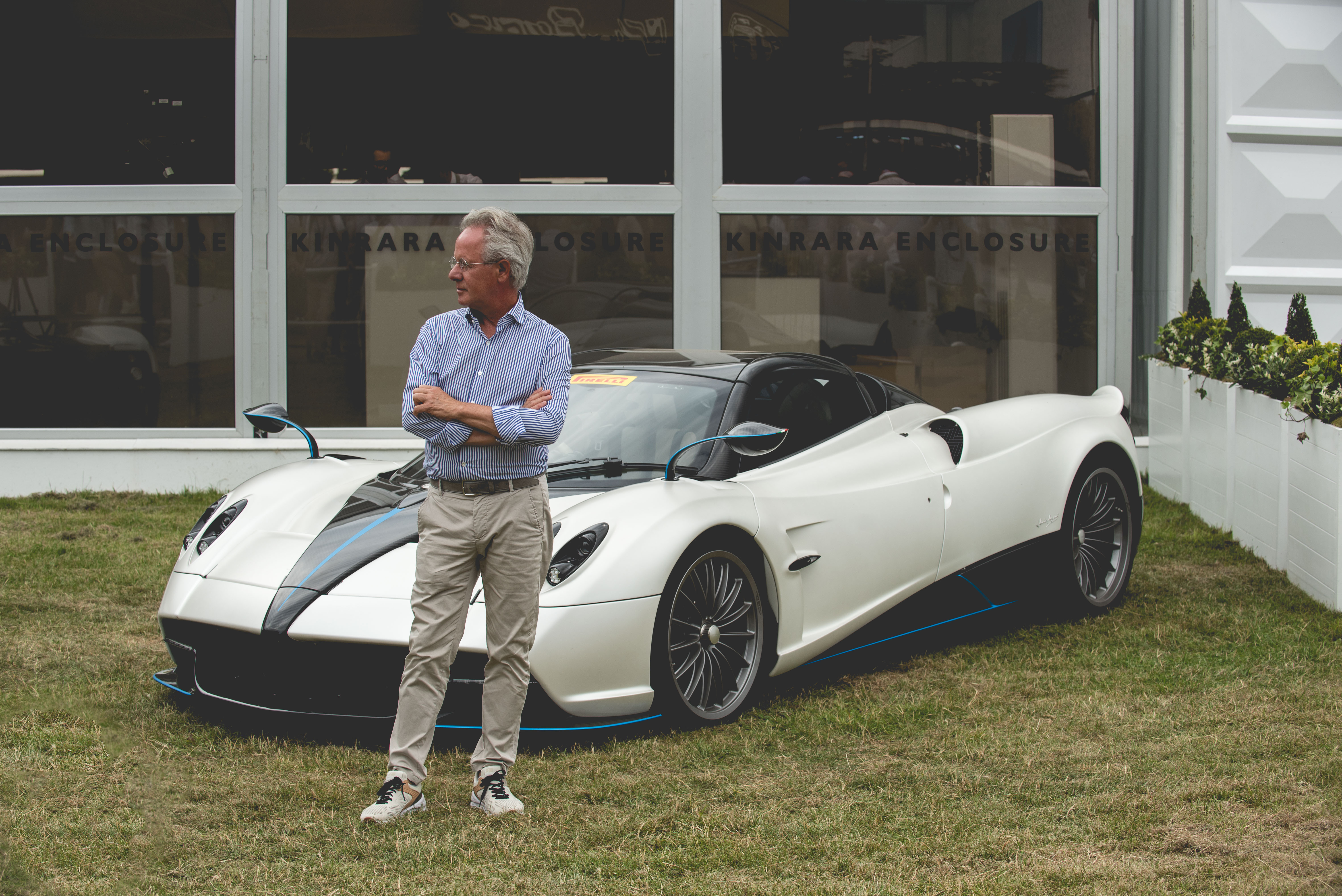 So sadly that was the end of the day and the end of this years festival for me. My friends needed to get back home so we left quite early without seeing the off road stages, rally areas, top paddock and a few race cars around the main paddock.
All in all though another amazing year at Goodwood Festival of Speed and I already cant wait for 2020! I say this every year but if you have the slightest interest in motorsports or cars in general get yourself a ticket for the next festival, you won't regret it!
Next up for me is a brand new event, Supercar Fest at Shelsey Walsh, another hillclimb event so look out for plenty of images and of course another blog!
Cheers for reading guys!